Win a copy of Hardcore Nation 2!

HappyHardcore.com, Nukleuz and Warner Dance give you the chance for 10 lucky people to win a copy of the triple (3 CD's) Hardcore Nation 2!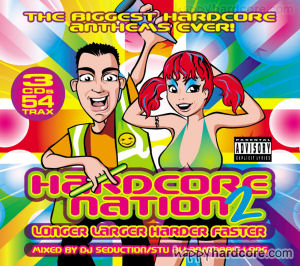 All you have to do is answer this simple question:
1. What is the name of the album?
2. How many CD discs contained in the album?
(hint answers can be found on the this page)



Competition closed 2nd November 2005 - 00:00 (midnight) GMT





Winners are:
Tim Swan - Australia
Chelsea Shapcott - England
Jamie Scott - Scotland
Sheree Drury - Scotland
Glenn Murley - England
Jeano Murad - UK
Kerry Richardson - UK
Chris Mansfield - United Kingdom
Adam Tickner - England
Bradey Doel - England



1. Prizes will be sent out by Radical PR direct.
2. Winners picked at random and then checked for correct answer. If the answer is wrong another random winner is selected and this process continues until a correct answer is found.
3. Winners will be notified by email.
4. Only one entry per household.