Win a copy of Visa - Fly Away!

HappyHardcore.com, Nukleuz and Warner Dance give you the chance for 5 lucky people to win a Hardcore Nation set containing a copy of the new album Hardcore Nation & the Hardcore Nation EP vinyl sampler!

The EP contains:
A1: Cally & Juice - All you bastards (Robbie Long & Stormtrooper remix)
A2: DJ Energy - Serenity (Visa remix)
B1: Stu Allen & Peter Pritchard - Love you more (Original hardcore mix)
B2: Impact & Resist - Drifting Away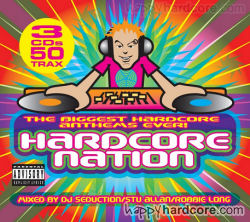 All you have to do is answer this simple question:
1. What is the name of the album?
2. How many tracks are contained on EP vinyl?

(hint answers can be found on the this page)



Competition closed 8th March 2005 - 00:00 (midnight) GMT





Winners are:
Greg McCall - New Zealand
Anthony Manserra - Canada
Brian Ault - USA
Andy Davies - Lincs
Andrew Shale - United Kingdom



1. Prizes will be sent out by Nukleuz direct.
2. Winners picked at random and then checked for correct answer. If the answer is wrong another random winner is selected and this process continues until a correct answer is found.
3. Winners will be notified by email.
4. Only one entry per household.