Win a copy of Next Generation - The Collection v.2!

HappyHardcore.com and Next Generation Records give you the chance for 5 lucky people to win a brand new AUTOGRAPHED copy of Next Generation - The Collection v.2.

This double CD is by mixed by DJ's Brisk and Ham.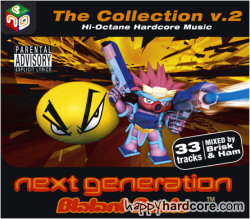 All you have to do is answer this simple question:
1. Where are Frisky & Hujib from?
Is it
a) Canada
b) Venezuala
c) Brazil?
(hint answers can be found on the Next Generation Web site or the artist profiles on HappyHardcore.com)



Competition closed 26th November 2004 - 00:00 (midnight) GMT



Winners are:
Izumi Kubo - Japan
Ryan Livingstone - Scotland
Jenna Neath - Canada
Gareth Watts - England
Louis Kinsella - England

1. Prizes will be sent out by Next Generation Records direct.
2. Winners picked at random and then checked for correct answer. If the answer is wrong another random winner is selected and this process continues until a correct answer is found.
3. Winners will be notified by email.
4. Only one entry per household.