Win a copy of Bonkers 15!

HappyHardcore.com and Resist and give you the chance for 5 lucky people to win a copy of the quad (4 CD's) Bonkers 15 album mixed by Hixxy & Re-con, Sharkey & Marc Smith, Scott Brown & Neophyte, Dougal & Gammer!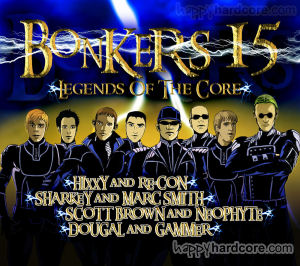 All you have to do is answer this simple question:
1. Name any two DJ's that mixed the album?
(hint answers can be found on the this page)



Competition closed 12th December 2005 - 00:00 (midnight) GMT




Winners are:
Colin Heath - UK
Jamie Hutton - Scotland
Jose Santos - Colombia
Leo Chavez - U.S.A.
Daniel McDonald - Australia



1. Prizes will be sent out by Resist direct.
2. Winners picked at random and then checked for correct answer. If the answer is wrong another random winner is selected and this process continues until a correct answer is found.
3. Winners will be notified by email.
4. Only one entry per household.