Win the double CD Masters of Hardcore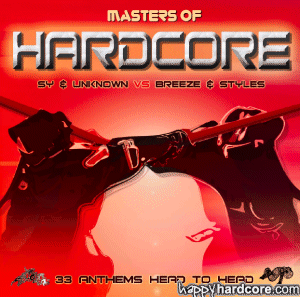 HappyHardcore.com and Rumour Records are offering the chance for 5 lucky people to win a free copy of the new double CD 'Masters of Hardcore'

All you have to do is answer this simple question:
Name any two of the four DJ's featured on the 'Masters of Hardcore' CD



Competition closed 28th Oct 2002 - 00:00 (midnight) GMT



Winners:
David Jones (England)
Ewan Robertson (England)
Pete Finley (Australia)
Erik Samuelsson Lantto (Sweden)
Matt Clarke (England)





** All prizes will be sent out from Rumour Records UK direct **
** Only one entry per person **
Press release:

MASTERS OF HARDCORE
SY & UNKNOWN vs BREEZE & STYLES

The Hardcore scene is undergoing a massive resurgence which has seen the return of mass attendances at huge raves with all the major promoters including Helter Skelter, Vibealite, Future Dance, Compulsion, United Dance, Devastation and Slammin' Vinyl organizing bigger and better events on a monthly basis once again. Undoubtedly at the top of the league are the DJ and writing/production teams SY & UNKNOWN and BREEZE & STYLES who go head to head on "MASTERS OF HARDCORE" - a double mixed CD featuring 33 hardcore anthems several of which are new and exclusive to the album whilst others have already been massive on the scene.

SY & UNKNOWN have been working as a team since 1994 when they met whilst Djing at the same rave. After producing several singles together they launched their own label QUOSH RECORDS which is now established as one of the leading labels on the world hardcore scene. In tandem with the label's success the duo have maintained an international reputation for back-to-back DJ sets and remain the only Dj act to perform quick mixing and scratching techniques in the hardcore scene. The SY & UNKNOWN disc for "MASTERS OF HARDCORE" represents the best of their past and present hardcore productions.

BREEZE & STYLES are hardcore's other dynamic duo to be featured on the "MASTERS OF HARDCORE" set. Darren STYLES through his work with FORCE in the first half of the nineties became one of the key figures in the early hardcore scene. Mark BREEZE was at the same time forging a successful career with a string of successful releases on the Essential Platinum label which led to the foundation of his own INFINITY RECORDINGS. It was around 1997 that BREEZE & STYLES united through both a common love of hardcore but a growing interest in trance. Both the best of their pure hardcore tracks which have been consistently successful singles releases on the RAVERBABY imprint and the more trance influenced sounds the guys have been pioneering through their association with NUKLEUZ are featured on the disc BREEZE & STYLES have hand-picked and mixed for "MASTERS OF HARDCORE".