Pre-order Sharpnel Sounds Collection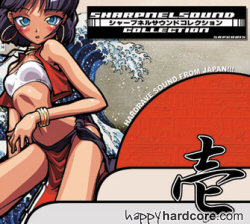 HappyHardcore.com are offering the chance for the rest of the world to pickup a piece of Japanese hardcore that normally would not make it out of Japan. HappyHardcore.com has had many requests for Japanese contents and stuff from DJ Sharpnel. This is limited chance to order the CD.



Due to the popularity of this pre-order you must have a PayPal account to pre-order if you do not have a PayPal account you will not be able to order.

Pre-order closed 23rd July 2004 - 00:00 (midnight) GMT



Track List
1. BLUE NOAH / Neon Genesis Gabbangelion
2. Go!Go!BROADAPEAL / DJ Sharpnel
3. POWERPUFF GABBERZ / Neon Genesis Gabbangelion
4. Kill'em All / DJ Sharpnel
5. PANTS / DJ Sharpnel
6. for you / DJ Sharpnel
7. DATA DRAIN / DJ Sharpnel
8. LONLY LONLY / DJ Sharpnel
9. ZEPHON / DJ Sharpnel
10. REDPILL / DJ Sharpnel
11. SAMURAI HARDBEAT / DJ Sharpnel
12. UNDERSTYLE / Killingscum
13. BLUE BETREYAL / DJ Sharpnel
14. MORNING KNIFREAK / Killingscum
15. FLOWER FOREVER / DJ Sharpnel

Final prices including shipping are as follows:
CD including worldwide shipping
2500 Japanese Yen
axp. 12.40 UK pounds / USD$23 / 18.66 Euro / CAD$30.56 / $AUD 31.82
Including worldwide shipping!

CD including Japan only shipping
2010 Japanese Yen

1. CD's will be sent out by HappyHardcore.com direct.
2. The pre-order is first come first served.