NEWS
2002/12/31
Hardcore 2002!
Phew what a year for hardcore! 2002 is the year hardcore was re-born, fresh new talent as well as strong new material from established artists made it a year to remember.

2002 for hardcore saw many things, firstly at HappyHardcore.com we gained just over 4200 new members!, the web site saw over 34 million (34,000,000) server request (hits), we streamed over 30 Terabytes (axp 30,000 Gigabytes) of HappyHardcore Radio! and saw over 38,000 posts in the forums.

2002 saw the launch of the following new labels:

MasterWax
ATM
RainDance
DFM Records
Next Generation - re-launch
New Essential platinum - re-launch
CLSM
Elation
JobSeekers
FBI - re-launch
e-plus
Digital Beatz
Phase 4 Records
Raw Elements

With several CD compilations coming out from:
Rumour Records
React
Ministry of sound

2002 also saw: HappyHardcore.DJ free hardcore email service was launched, MixMag magazine (UK) had a 4 page feature on hardcore and two months later featured a free hardcore CD on the front cover, Flip & Fill covered the hardcore classic Shooting Star which reached #3 in the UK national charts and well as Kelly Llorenna with the resung classic hardcore track Heart of gold, Helter Skelter returned with hardcore and finally so many new hardcore supports, DJ's, artists, producers and events showed that hardcore will never die.

I obviously could not include everyone and everything here that happened in 2002, I probably missed a few things here and there as well... From everyone at HappyHardcore.com we wish everyone around the world safe and happy new year.

Get ready for a MASSIVE Hardcore 2003!
2002/12/30
SSU Bustin' out in 2003
As you know SSU Recordings has been kind of quite over the past year and we have just found out why! SSU have sent HappyHardcore.com new information on their latest happenings, released this week was SSU 8 (Fade & Simon Apex - Falling / Simon Apex & Ion - Purgatory) being closely followed by SSU 9 (Simon Apex - Over Again / Storm & Herman / Breaking My Heart) as you might already know but as of SSU 10, SSU have gone a new approach with every release featuring "a kick drum work out on one side coupled with a breaks and bass stormer on the flip". SSU have also refitted their studios with new equipment and promise a release every 6 weeks!

Audio (MP3):
Simon Apex & Ion - Fear This

Simon Apex & Dair - The Mincer

Simon Apex & Dair - Sound System Rockin

Simon Apex, Ion & Chance - The Game

Simon Apex & Orion - Treble N Bass Remix

Simon Apex & Ion - Temple Of Dreams

Finally for all your studio gear heads out there exclusive insider video of SSU new studio!
Video (Real):
Stateside Studios
2002/12/25
Evolution Christmas goodness
As promised in the earlier news post HappyHardcore.com has obtained exclusive images and a complete track list of the new Evolution Records CD called Elysium - Mixed by DJ Angel to be released in Japan only. HappyHardcore.com has also secured exclusive sales for the CD on the internet, and unless you live in Japan you can only order this CD from HappyHardcore.com. The CD is due for release March 2003 (3 months from now) but we are excepting reservations. Hit orders@HappyHardcore.com up with an email with your full details and we will email you when the CD is ready for purchase. Pricing is unknown at this point but I expect it should be no more than any normal import CD. Hands down the track listing is to die for this is the CD is what everyone has been waiting for!

1. Q-Tex - Power of love 98
2. Scott Brown - Everytime I close my eyes
3. Interstate - Beloved
4. Scott Brown - Trance sect
5. Q-Tex - Let the bass go
6. Q-Tex - Roll the track
7. Interstate - Rock da house
8. Bass-X vs Scott Brown - Pilgrim 2000
9. Q-Tex - Like an angel
10. Scott Brown - Turn up the music (Breeze & styles mix)
11. Scott Brown - Gang Bang society
12. Scott Brown - Rock you softly
13. Hardcore Authority - Definition of a badboy
14. Scott Brown - Na Na Na
15. Brisk & Scott Brown - Chase
16. Scott Brown & Gillen Tennant - Elysium+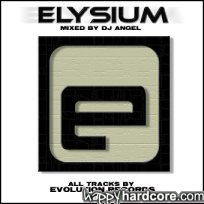 Elysium - Available on HappyHardcore.com ONLY!
2002/12/24
Evolution madness!
Evolution records have released a ton of new information to HappyHardcore.com firstly as rumored on HappyHardcore.com last month EV63 will infact be Scott Brown - Ghosts / Turn up the music (remix).

UPDATED: Rumors of EV63 being a picture disc are confirmed, EV63 will have a limited picture disc run!

Releases on the table for Evolution include old school and new school double mix CD there in February released on Down Underground in Australia, as well as following the success of Hardcore - A new beginning released from Rumour records, Scott Brown & Neophyte will join forces again to bring you Hardcore 2 in the New Year.

We have saved the best for last, A new mix CD by DJ Angel featuring all the latest evolution tracks will be out March 2003 in Japan, HappyHardcore.com has the exclusive web sales for this CD! HappyHardcore.com has also been given the exclusive artwork and final track listing, we will post in a few hours!

2002/12/24
'tis the season to be hardcore!
HappyHardcore.com is proud to present exclusively to the internet as a Christmas present for HappyHardcore.com viewers the sale of the new Gabba / New style hardcore CD from H2OH entitled Hardcore for the HeadStrong mixed by Japanese hardest gabba DJ - DJ chucky. This CD is only licensed for release in Japan meaning you can not buy this CD anywhere in the world except in Japan. HappyHardcore.com is proud to exclusively offer you the CD to purchase for import buyers via HappyHardcore.com. Costing for the CD is 3625 Japanese Yen (axp. 19 UK pounds or 30 US dollars) with full shipping included!
Sorry no credit cards excepted, If you wish to order this CD send HappyHardcore.com an email to orders@HappyHardcore.com and we will send you full details on how to make a money order or cheque and get this hot CD in your hands.

Complete Track list with selected audio (Windows Media)
01. Omar Santana - Lethal Weapon
02. Omar Santana - Make Some Noise
03. Chosen Few - I Refuse 2 Looze
04. 3 Da Hard Way - Pull The Trigger
05. Rob Gee - Boriqua Bitch (Buzz Fuzz Remix)
06. Omar Santana - Darkside
07. Da Predator - Out Of Control
08. Omar Santana - World Domination
09. Omar Santana - Bum Rush Da Sound
10. Omar Santana - Get Ready Motha****s
11. Da Predator - Human Blood
12. Predator - Elements of Danger
13. Omar Santana - Necronomincon (Omar's Mix)
14. Omar Santana - Kick Some Shit (original mix)
15. 3 Da Hard Way - Original Rude boyz (oh oh mix)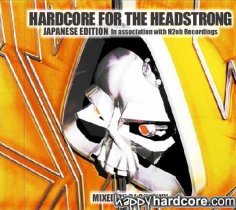 Hardcore for the HeadStrong - Japanese edition
2002/12/23
Interview: DJ Menis
A man that has quickly made a name for himself is DJ Menis, his name has appeared on many new hardcore releases this year. HappyHardcore.com talks to DJ Menis in between his Garden Bowling sessions to find out a little about the man in DJ Menis' interview.
2002/12/23
Hardcore goes front cover MixMag!
Word from the editor's over at MixMag (UK based club magazine) is that the next issue's cover that is on sale end of Jan 2003 has a hardcore front cover with the main "club feature" also about hardcore. The front cover is to be as it stands now a shot of a raver at the UK party Neo (held last month) with the main feature about following around a bunch of Godskitchen (UK Hardhouse party) regulars turned hardcore virgins. MixMag has a word of warning for the slaters that "it's not an in depth music or DJ led piece it's a club feature."

As it stands this will cause alot of people to panic and hit the commercialization button, having not read or seen the article I'm going on record to say I fully support MixMag and their efforts for hardcore, yes I have read what they have done in the past, but my reasons are this: In the last few years (Happy) hardcore has been given a backseat to Hard House and Trance, everyone knows many hardcore people left the hardcore and the hardcore darkest times were around 98-99 where you would get no credit at all for DJing, producing or writing anything hardcore. If it wasn't for artists and DJ's such as Hixxy, Brisk, Ham, Scott Brown just to name a few sticking with hardcore HappyHardcore.com and hardcore music might have ended up like 70's disco (no one making anything new) and the hardcore scene to slowly bleed to death because there is no fresh blood.

I started HappyHardcore.com late 1998 and have slowly seen a new generation of hardcore supporters as well as the people that stuck with it during those dark times making hardcore massive again. This is not due to any one person or action, all the hardcore DJ's globally, all the members of USH, ravers that go to the events, the supporters of the Happy2BHardcore and Bonkers CDs and of course all the members of HappyHardcore.com have made hardcore massive, and trust me this is just the tip of the iceberg. We have always wanted respect for sticking with what we love and we are now getting the attention of big media. Of course there are going to be a few articles here and there that we will not agree with, but like most of you already say we don't need the media to make hardcore popular, hardcore will never die and this proves it. What other dance genre has EVER come back with such devolved spirit? Sure media will attract more people, but hardcore has enough core supports, producers and DJ's to take the extra and lose them again when the media starts to write about something else, besides this isn't about the people it is about the respect.

Hardcore is now a global force, we now have major hardcore scenes in the UK, Japan, Australia, USA and Canada like never before. Let the media write about us, keep them informed, tell them hardcore is here is stay!

Click to discuss this resource
2002/12/22
Just the basic Raw Elements
The Raw Elements crew have sent HappyHardcore.com over their latest release schedule, judging from their first two releases they will not be ones to miss.

ELEM003 - January 2003
A: Undefined - Uplift, Cris.E.Manic & Lukozade
AA: AWOL - Uplift, Cris.E.Manic & Lukozade

ELEM004 - March 2003
A: Acid Aftermath - Cris.E.Manic
AA: TBC

ELEM005 - April 2003
A: Faith Alone - DOK & Ponder
AA: TBC

ELEM006 - May 2003
A: Revelations - Uplift & Stargazer
AA: Statik - Uplift & Stargazer
2002/12/20
It's great to be number 2
Loud magazine is magazine published in Japanese for the Japanese market only, it's DJ and techno magazine and it the magazine every reads and trusts. Loud's latest January issue has listed vinyl shops tracks of the year on sales for 2002 with Misono - KonoMama on MasterWax 2 coming in the top 3 of two of the stores just behind Yoji Biomehanika!

Congratulations to Misono, DJ Uraken, DJ Kaos and the people I can't mention because of legal reasons :)
2002/12/16
New Hardcore Decadance album
News has leaked to HappyHardcore.com from a very reliable source on a new Decadance hardcore CD mixed by DJ Sy to be released January 2003. The new CD will feature mostly unreleased upfront stuff from Sy & Unknown, Hixxy, Breeze & Styles, Scott Brown, UFO, CLSM, Ponder & HB, Uplift, Cris-e-Manic & Lukozade, Oli G, DJ Fracus & Gavin G, Stargazer, Dougal & Gammer.
2002/12/15
Quick the Boss is coming!
The Kniteforce crew have sent HappyHardcore.com over full details on their latest CD including material from Kniteforce and JAL. Check it out!

B.O.S.S. - Breakbeat Old Skool Sessions Vol 1.
1 DJ, 2 Labels, 3 Turntables.
Kniteforce Vs JAL, Mixed and scratched by Luna-C.

Complete Track Listing:
1) Luna-C - Piano Progression
2) Citadel of Kaos - Passion
3) Alk-e-d - Selecta
4) JDS - Higher Love
5) Future Primitive - Feel it
6) DJ Unity - Freedom
7) Timespan - Music
8) Citadel of Kaos - Earthquake
9) Force & Evolution - Escape the Feeling
10) Billy Bunter - Let it Lift You
11) DJ Deluxe - Error 17
12) Justin Time - Help Me
13) Richie Whizz - Song of Angels
14) Billy Bunter - New Sensation
15) U-Clan - Ancient Art of 'Ardcore
16) Justin Time - Sweet in Pocket
2002/12/09
Complex hardcore
Elation Recordings have given HappyHardcore.com exclusive artwork for their new CD album due to be released in the UK this month entitled "The David Complex". We are not sure who David is but we will investigate to why he is so complex and get back to you, but in all seriousness the track list looks extremely good judging from the artists other audio work. HappyHardcore.com has also has a complete track list.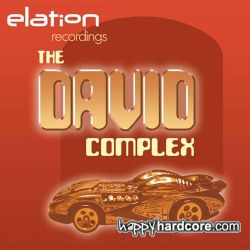 2002/12/08
Just in time for Christmas
The RaverBaby drought it over, RaverBaby 8 and Jelly Baby 4 hit the store shelves over the weekend. If all goes well there should be more coming soon according to earlier reports from Hixxy.
2002/12/05
HappyHardcore.com Radio gets a major upgrade!
HappyHardcore.com has launched a real-time streaming track, label and label catalogue numbers system for the DJ mixes on HappyHardcore.com Radio! We believe there are no other systems in the world that can do this... Another first for Hardcore! The track information also link directly into HappyHardcore.com's record database so you can get more information. Due to the fact we stream all over the world the titles can be upto 30 seconds out of sync but still not a problem since most tracks are 3-4 mins. Launch the radio (above) in your favorite player and check it out. Note we had to reduce the size of the images below to fit them in.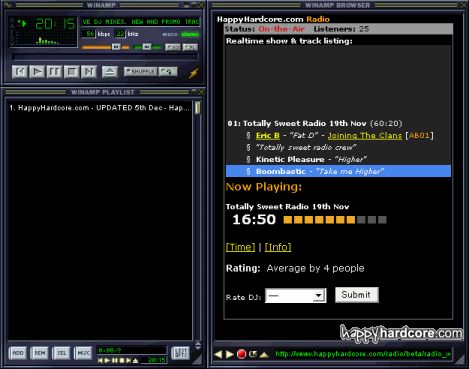 Title streaming in WinAmp v2.x (ALT-T to open Mini Browser)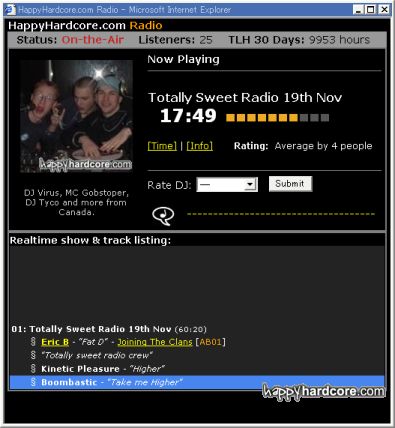 Full advanced streaming window with DJ images and track data
Click to discuss this resource
2002/12/04
Interview: MC / DJ Ethos
A familiar name in hardcore is Ethos. He has releases on his co-owned Future Dance label as well as the latest Happy2BHardcore 7 CD. HappyHardcore.com sits down with Ethos in his interview.
2002/12/03
New Donna Grassie hardcore
DJ Fracus & Oli G have recorded a brand new vocal hardcore track with Donna Grassie (of 'Cloudy Daze' , 'Gotta believe', 'Sunshine' fame). The new track entitled 'Feel the light' is a totally original track and will be released on DFM Records in the new year. Donna will also be recording some more work with the DFM boys in 2003.

Audio (Real):
DJ Fracus & Oli G (feat. Donna Grassie) - Feel the light
2002/12/02
Calling all DJ's
If you don't already know HappyHardcore.com Radio is the number one listened to radio on the internet for hardcore. So much listened to that in just the last 14 days since HappyHardcore.com posted that we had streamed 4.5 years, we have streamed another 6 months of hardcore... Yes that correct we have now streamed over 5 years of hardcore! from Canada to Austria to Malaysia to Romania to Costa Rica to Bolivia... the list goes on and on... Unbelievable!

So what we going to do about it? Well as HappyHardcore.com is about the music and the people we are opening our doors to guest DJ radio spots and new permanent shows. Yes you can lay down the tunes on the biggest internet hardcore radio on the planet! This is open to anyone, whether your an unknown bedroom DJ or play the big parties. All interested parties should email silver@happyhardcore.com for full details (no time wasters please).

Lastly, new poll for the month.

go hard or go home...