NEWS
2004/11/29
Regular live radio shows on HappyHardcore.com radio
Running live shows on HappyHardcore.com radio is not the easiest thing to do when there are over six servers and three stream types to deal with, it's much simpler when you have one server to flick one switch... BUT that is all about to change after months of hard work, we're proud to bring you brand new regular live shows to HappyHardcore.com radio. Last week saw the live pilot shows of the CPX Crew direct from Sydney Australia and the North American Hardcore Movement from all over North America. Both shows had their own little teething problems, but that is what pilot shows are for, we have ironed out all the problems and this week are announcing the news to all.

Update 2004/12/01: Unfortunately the CPX Radio show has been canceled this week due to technical problems with the CPX crew and equipment. Tune in next week for the CPX crew. The North American Hardcore Movement live show is uneffected and will be broadcast as scheduled.

Next we turn our attention to hardcore North America, this Wednesday (Dec 1st, 2004) tune in from 6 - 10pm EST for the grand premier of North American Hardcore Movement LIVE on HappyHardcore.com radio this Wednesday evening and every Wednesday evening with DJ's Virus, Comet, Milo, and Apollo. This show is focused on providing the world with the latest sounds of North America's top DJs and producers as we bring in special guests and regular DJ rotations from all over North America. You'll be able to get in the HappyHardcore.com chat room and talk live with the crew as they bring you four hours of absolutely bangin' hardcore. So tune in, tell your friends, and don't miss out!

The fun starts:
Wednesday 1st December 2004:
USA PST - Los Angeles, San Francisco:
3:00pm (Wednesday)

USA EST - New York, Toronto:
6:00pm (Wednesday)

UK GMT - England, Scotland:
11:00pm (Wednesday)

Japan - Tokyo, Osaka:
8:00am (Thursday)

Australia - Sydney, Brisbane:
10:00am (Thursday)

Germany - Berlin:
12:00am (Midnight Thursday)

Nuku'alofa - ???:
12:00pm (Thursday)

This shows timezone should be suitable for listeners in Australia, Tokyo and North America.

HappyHardcore.com radio has not stopped broadcasting hardcore since July 1999, making us arguably the longest running hardcore radio station in the world and certainly the most popular streaming radio station in the world. Expect more live radio and interesting stuff from HappyHardcore.com radio as will be expanding our live coverage to the UK and other hardcore infected zones shortly :)
2004/11/24
Pre-order: DJ Storm - The History + more Japanese hardcore CDs
The last Japanese hardcore CD Sharpnel pre-order we did on the site was insane! We pre-sold the entire shipment we received. Due to this extremely popularity for Japanese hardcore we have dug around to see what we could offer to the Japanese hardcore junkie's out there and we have come up with some bits not before released outside of Japan that everyone should love.

First up is a brand new DJ Storm CD entitled DJ Storm - The History (tracklist), this is due for release 30th of November 2004 and HappyHardcore.com has secured a limited amount for all the fans of DJ Storm and the mixing styles of Japanese hardcore DJ Bug. This CD is autographed by DJ Bug and released in Japan only, there are no guarantee's this CD will be imported to any other country so if you want this CD we suggest you order now.

Next we have extremely limited copies of Hardcore Junkieee (tracklist) which is an unmixed CD and Rotterdam Gabberz (tracklist) both released a while back but never offered outside of Japan.

Pre-order finishes 30th of November 2004 so be quick! Payment is by credit card and paypal only. - Pre-order now!




2004/11/24
Electronic overload
The Electronic label has been quite as of late due to some pressing problems, but that is all about to change. The Electronic boys have sent out news on their upcoming release schedule with audio, plus announcing a new join partnership record label!

Both releases are mastered and will be in stores in the coming months.

Electronic ETRIC017 2x12"
A. Tazz & Deviance - War Machine
B1. Tazz & Narcotic Featuring MC Casper Cut No Slack
B2. Tazz v Digital Anarchy - Metamorphosis
C. Alek Száhala - The Hater
D1. DOK & Lost Soul - Gods Child
D2. DOK & Ponder - Octagon

Electronic ETRIC018 12" X Rated EP
A. DOK & Ponder - Faith Alone
B1. Tazz & Shanty - Rave Ripper
B2. Pain On Creation - Mortality

TPs of ETRIC018 should be on sale in a couple of weeks and hopefully will see a full release in 2004.

A new label collaboration is the new Electronic Phusion label, run in conjunction between the Electronic record label and Sage from Phusion Records, a record store based in Los Angeles, USA. We have been told that the first four releases will be limited to only 250 copies per release, HappyHardcore.com suspects at a higher retail price. All four releases have been sent to vinyl mastering and will be available in the next couple of months.

Electronic Phusion ETRICPH001 12"
A. Tazz v Digital Anarchy - Search For Evolution
B1. Re-form - Purple
B2. Re-form - Punishment

Electronic Phusion ETRICPH002 12"
A1. Furious - Morphed
A2. Furious - Acid Carnage
B1. Re-form Plastic Sky (To The NRG)
B2. Nemes & Blender Inquisition

Electronic Phusion ETRICPH003 12"
A. Tazz - Five Second Breakdown
B. LCP - Get Busy

Electronic Phusion ETRICPH004 12"
A. Alek Száhala - Desagoon Juniper
B. Alek Száhala - Darkstar







Electronic


Electronic Phusion
Click to discuss this resource
2004/11/24
Time for some Mokum
After a successful re-launch of Mokum the second in new Mokum release series is due in stores shortly. It looks and smells like the following:

MOK102
A1 : Irmak - In your face
A2 : Irmak - Arabian soldier on horse
B1 : Irmak - Back up the groove
B2 : Irmak - Remember my name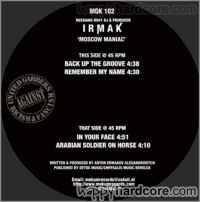 MOK102
2004/11/24
Monkey's and hardcore
The new hardcore label Monkey Business has sent over HappyHardcore.com the first release information and audio for everyone to checkout. This new hardcore label is headed up by Mike Di Scala (Ultrabeat / Re-con) and Paulos from 3 beat records (a Liverpool, UK record store), MONBIZ001 should be in store with in 1-2 months.

Audio (MP3):
MONBIZ001
A: Re-Con - Finally
B: Re-Con - The Sun
2004/11/24
Trip 2 nite
Hardcore label Trip 2 Nite has updated their logo, check it out.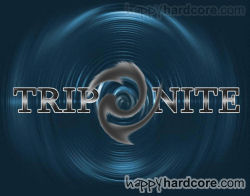 Trip 2 nite get even tripper
2004/11/20
10 years of evolution
Evolution Records have published the tracklist and complete artwork for their upcoming 10 years of Evolution Records album. The release is still set for January 2005.

Disc 1
1) Interstate - Lost Generation
2) Scott Brown - I don't need nobody
3) Q-Tex - Let the bass go
4) Scott Brown - Healing mind
5) Interstate - Roll the track
6) Scott Brown - Turn up the music
7) Interstate - Hardcore Hustler
8) Scott Brown - Blue Room
9) Scott Brown - Elysium +
10) Scott Brown - Gang bang society (remix)
11) Plus System - Prince of darkness
12) Scott Brown - Rock you softly
13) Scott Brown - Make the beat drop
14) Plus System - Make you freak
15) Plus System - Commence
16) Brisk & Brown - Back and Forth (UK mix)
17) Scott Brown & DMO - Just walk away
18) Plus System - Rock that body (original)
19) Plus System - I'll be yours
20) Scott Brown - Synthetic dreams
21) Plus System - Bassline of the century
22) Plus System - Neckbreaker (Nustyle mix)
23) Plus System - Rock that body (Nustyle mix)
24) Scott Brown - Boomstick

Disc 2
1) Q-Tex - Overdrive
2) Mr Brown - Jump
3) LOH - Go Berzerk
4) Bass-x - Hardcore disco 3
5) Kinetic Pleasure - Rhythm flow
6) Scott Brown - A view to the future
7) Scott Brown - Dum Dooby Dum
8) Q-Tex - Can't get enough
9) Bass Reaction - Technophobia (power mix)
10) Scott Brown - Trance Sect
11) Scott Brown - Detonated
12) Q-Tex - I love you baby
13) Scott Brown - Wicked
14) Scott Brown & DJ Rab S - Now is the time (Hixxy & Trixxy remix)
15) Bass-x - Do it now
16) Q-Tex - Equazion 4 (REMIX)
17) Scott Brown - Get on up
18) Q-Tex - Burning up
19) Scott Brown / Bass-D / King Matthew - The people love it
20) Bass-x - Overdose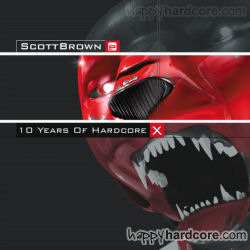 10 years of Evolution
Click to discuss this resource
2004/11/17
Very Essential
Essential Platinum have released information on their upcoming releases, in store shortly.

EPP025
A: Dougal & Gammer - Crackwhore
B: Dougal & Gammer - Rainfall Remix (Feat. Jenna)

EPP026
A: Dougal & Mickey Skeedal - Really Love You (Dougal & Gammer Remix)
B: Dougal & Gammer feat. Jenna - Don't Go
2004/11/16
Hardcore DJ's in the top 250
DJ Magazine posts their annual top 100 DJ as voted by the general public each year. Hardcore DJ's have not been in the top 100 for a while now as the chart has turned into a house / trance top 100 chart since the magazine itself does not regularly cover hardcore thus the readers are not hardcore / hard dance people. This year things are a little different, no sorry no hardcore DJ's got into the top 100 but a few managed to get into the top 250!

174: DJ Issac
179: Scott Brown
199: Hixxy
229: Darkraver

Well done boys!
Click to discuss this resource
2004/11/16
NuEnergy limited
The NuEnergy crew are going limited, limited edition that is. A new sub label of NuEnergy called simple called NuEnergy limited is set to release their first release shortly. Audio below.

Audio (Real Audio)
NUNRGLTD001
A: Asa and S1 - Convulsion
AA: Asa and S1 - Cured
2004/11/16
Promo products
New on the gabber gabber / hardstyle front has a release from the third movement crew with DJ Promo EP entitled "My claim to fame" look for a release end of November 2004.

Audio (MP3):
Release date: November 2004
A1: Promo - Still got it
A2: Promo - Devastation of thought
B1: Promo - My claim to fame
B2: Promo - Lost in the bush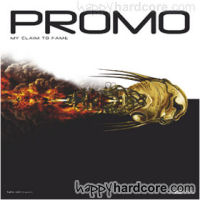 Promo is back on the release war path
2004/11/12
There is no collections like hardcore collections
2004/11/12
Seeing with Inner vision
The Innervision crew have put together their latest creation and posted us some information and audio regarding the release.

Audio (Real Audio)
INVR004
A: Lost Soul - Lemme Hear Ya
AA: Lost Soul - Genocide
2004/11/11
Competition: Next Generation - The collective v.2
HappyHardcore.com and Next Generation Records are giving everyone the chance to pick for free an autographed copy of the new Next Generation Records album entitled The Collection v.2!

You only have until November 26th to enter so click the artwork below to enter.


2004/11/11
TSR 2 years old and hits 100 shows!
The Totally Sweet Radio crew (our sister hardcore radio channel on HappyHardcore.com) are two years old with the TSR screw celebrating this event with a special show also marking their 100th episode! The crazy weekly antics of the TSR has become quite a favorite for hardcore fans worldwide and HappyHardcore.com gives a big congratulations to the crew on their dedication!
2004/11/11
ProActive 4
The Proactive crew have released information and audio on their forthcoming release four. The release will be out 20th of December 2004.

Audio (Real Audio)
PRO004
A: DOK n Ponder vs The *TING* - What You Dont Know
AA: The *TING* and DMF - Out Of Control
2004/11/11
Stompin Choonz stomp back
Stompin Choonz stomp back into regular releases again and hav annouched their next release with audio!

Founded back in the days of 1995, Stompin's debut release was the massive, best selling, vocal anthem "Higher Love" by JDS featuring the powerful vocals of Corelle.

Audio (Real Audio)
ST035
A: Visionary - Taste The Funk
AA: Visionary - 20000 Years
2004/11/09
Listen to HappyHardcore.com radio ANYWHERE!
HappyHardcore.com radio is expanding, move over FM broadcasts we have blown off our internet PC boundaries and moved wireless! As more and more wireless points and devices make they way out to market we have found we are getting listeners on HappyHardcore.com from new places that were not possible even this time last year.

We received an email last weekend telling us of just one of these experiences where a listener and fan of HappyHardcore.com radio was able to listen to the radio in their car driving from Texas to Colorado for 98% of the ride. How is this possible? With Pocket PC's like the HP iPAQ h6315 with built in WiFi (wireless internet) and T-mobile (unlimited mobile data connection) if you in the US or unlimited Vodaphone if your in Australia or AirH if your in Japan, our fan was able to tune into HappyHardcore.com radio and plug the audio output of the Pocket PC into the audio in of the car stereo. Not only can you listen to HappyHardcore.com radio in the car you can you use your pocket pc as a walkman and listen to HappyHardcore.com radio anywhere you can get a mobile phone signal which these days is nearly anywhere!

As flat rate unlimited wireless data plans for internet connections are now a reality and every day the prices of the hardware drops we can see a future were you will be able to tune into us anywhere on the planet.
2004/11/08
Next Generation The collection v2 released
Author: silver

Next Generation Records new album has gone on sale today! A double CD mixed by Next Generation's own Brisk and Ham and featuring 33 of the latest BB and NG material. HappyHardcore.com has all the info for you and how you can pickup your very own copy.

Shop.HappyHardcore.com has the new release in stock (while stocks last) as well as Amazon.co.uk.

The tracklist is as follows:

CD 01
01 Ham - Hardcore 2004
02 Euphoria - Forbidden Fruit
03 Brisk & Ham - Crazy Love
04 Vagabond - Dreamskies
05 Ham - You Ready?
06 Eclipse - 24-7 - (Breeze & Styles Mix)
07 Frisky & Hujib - I'll Never Stop
08 Vagabond - True Awareness
09 Eclipse - B4 Tomorrow - (Ham Mix)
10 Euphoria - Future Is Now
11 Frisky & Hujib - Love Me Forever
12 Vagabond - Enter Heaven
13 Frisky & Hujib - Party Crasher
14 Brisk & Vagabond - The Time Has Come
15 Frisky and Hujib - You Better Run
16 Rampage & Revolution - Real God

CD 02
01 Brisk & Ham - Taste The Rainbow
02 Euphoria - Too Beautiful
03 Vagabond - Inorganic Sound
04 Brisk & Ham - Angel Eyes
05 Vagabond - Comin Closer
06 Brisk & Ham - To The Floor
07 Frisky & Hujib - Drop Da Bomb
08 Euphoria - Angel Falling
09 Brisk & Ham - Sounds Legit
10 Euphoria - Hardcore Overdose
11 Vagabond - Axis Mundi
12 Euphoria - Eternal Summer
13 Brisk & Ham - Blowin Up
14 Vagabond - Huggermugger
15 Stormtrooper - Clubshaker
16 Brisk & Ham - Run For Cover
17 Dreadhed - Chaos and Might


Click to discuss this resource
2004/11/08
Shining Down on AATW
As reported back in August this year AATW (All around the world) are to release a commercial version of the hardcore classic Shining Down. This new mix is done by Styles and Dougal under the group name "United In Dance" the promo is out this week and features the following mixes.

United In Dance - Shining Down

Extended Mix
Rez Q mix
Hixxy mix
Hardcore mix
Basscore mix
Dance Assassins mix
2004/11/05
14,000 hardcore members!
HappyHardcore.com has passed 14,000 members overnight! The number of hardcore members per month has been increasing month per month for the past few months a sure sign that hardcore is still growing at a good rate!

As usual many thanks to all the donating members, Shop.HappyHardcore.com customers, site moderators, respected DJ and artist regulars, chat regulars, radio listeners and forum users that make HappyHardcore.com your place for everything hardcore. Much respect!
2004/11/05
Hardcore charts in Finland!
Hardcore has charted in Finland! London Helsinki Underground by Kevin Energy and Proteus has charted at position 17 in the Finnish charts! The NuEnergy collective have also said that Kevin might appear on the Finnish version of Top Of The Pops (a weekly TV music count down show). Congratulations to Kevin, Proteus and everyone involved in the release.







Kevin Energy and Proteus at position 17! - Click for larger image
2004/11/04
AMS Switches on
Hardcore producer AMS has started his own label entitled Switched on. The first three releases have been announced and we have audio for everyone to listen to.

Audio (Real Audio):
SW001
A: DJ Resist - GSX3000
AA: DJ AMS - Hardcore Revolution

SW002
A: DJ Resist (feat.Poppy Schjerve) - Guiding Light
AA: DJ AMS - Black Notice

SW003
A: DJ Resist - Switched
AA: DJ AMS - Blazing Guns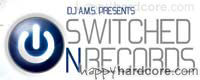 It's time to switch on!
2004/11/02
Makina inside the place
November 2004 welcomes a new Spanish hardcore label to international shores - Makina Inside is a sub-label of Addicted Music, a well respected Spanish hardcore label. One of the producers of the new label is Xavi Bcn, a veteran makina DJ and producer. HappyHardcore.com has promo audio of the new tracks but they don't have any names yet, so all we can tell you is that these are the tracks on the first release.

Audio (Real Audio) - note the volume on these recordings are very low
A: ?? - untitled track 1
B1: ?? - untitled track 2
B2: ?? - untitled track 3







It's tiny but that is the cover
2004/11/02
Evolution: 10 Years of Hardcore
Evolution Records celebrates 10 years of hardcore releases this year and to celebrate all the loyal EV fans Evolution Records are releasing out a double compilation celebrating music from the UK's longest running hardcore label. Evolution Records have said that all the big tracks from Evolution from 1994 to present day will be included. The CD will go one sale January 2005.

Evolution Records also said that the 10 year anniversary is actually 2004 but due to problems with their old distributors, the album had to be put back to 2005 meaning Evolution can cram more tunes on there!


Click to discuss this resource
2004/11/01
Hardcore penetrating mainstream CD's
The Clubland CD's released in the UK are the biggest commercial dance compilations dance album out there, they don't get more commercial than these releases. We have had a quick look at the tracklist and noticed more than ever more hardcore tunes, artists and cover versions popping up on the CD's. Like it or not the general public are developing a taste for the hard beats. We have made bold entries in the tracklist of the hardcore items.

Update 2004/11/04: Several people have emailed us saying we missed a few hardcore tunes in the list, they have been updated.

Track Listing
Disc: 1
1. Eyeopener - Hungry Eyes
2. Flip & Fill - Pacific Sun (Lullaby)
3. FNP vs Gabrielle - Dreams (Bootleg Mix)
4. Khia - My Neck, My Back (FNP Remix)
5. RIP - Shut Up
6. Scooter - Shake Your Booty (CJ Stone Remix)
7. Kelly Llorenna - B4 You Love Me (CJ Stone Remix)
8. Dance Assassins feat Karen Parry - Here I Am (Voodoo & Serano Remix)
9. United In Dance feat Jenna - Shining Down (Rezonance Q Remix)
10. Full Force feat Sam Noon - Just The Way It Is (Flip & Fill Remix)
11. Styles & Breeze - You're My Angel (Hixxy Remix)
12. Escape - Flying Away
13. Tabu feat. Siobhan - Mr Friday Night (Dizzy Deejays Remix)
14. Tina Cousins - Hymn (CJ Stone Remix)
15. Northern Heightz - Fly To You
16. Da Buzz - Let Me Love You Tonight (DJ Ectic Remix)
17. Special D - Nothing I Won't Do (Lee S Remix)
18. Praise Cats - Shined On Me (Friday Night Posse Remix)
19. Men From Mars feat Shocking Blue - Venus (Dancing DJ's Remix)

Disc: 2
1. Dannii Minogue vs Flower Power - You Won't Forget About Me
2. Michael Gray - The Weekend
3. Shapeshifters - Lola's Theme
4. Chosen Few vs Tears For Fears - Everybody Wants To Rule The World
5. Narcotic Thrust - When The Dawn Breaks (Dub Mix)
6. Stonebridge feat Therese - Put 'Em High
7. Rachel Stevens - More, More, More (Sharp Boys Mix)
8. Armand Van Helden - MyMyMy
9. Mirabeau - Back From Outta Space
10. Richard F - Let The Sunshine Thru (Adhesive Remix)
11. Coco Bongo - Burning Sunshine
12. DJ Casper feat. The Gap Band - Oops Upside Your Head
13. Colours feat Domino - Hold Me And Kiss Me (A T Mendoza vs Tibet Trumpet Mix)
14. Flash Brothers - Amen (Don't Be Afraid)
15. Minimal Chic feat. Matt Goss - I Need The Key (Highpass Remix)
16. Lucid - I Can't Help Myself (Mark Lucid vs Kenny Hayes Remix)
17. Slinky Minx - Summer Rain (Alex K Remix)
18. Maximum Lush - You & I (Nitro M Remix)
19. Fatboy Slim - Slash Dot Dash

Disc: 3
1. Special D - Home Alone
2. Rachel McFarlane - Lover (CJ Stone Remix)
3. Trick Babies vs LMC - Little Bird
4. Groove Coverage - Poison
5. Flip & Fill feat Karen Parry - Discoland
6. Ashley Jade - Let Me Be Your Fantasy
7. Porn Kings vs Mix Factory - Take Me Away
8. BCD Project - All I Think About Is You (Lee S Remix)
9. Hackett - So Emotional
10. Quango & Zunie feat Niki Belle - Music Is My Life
11. Karen Danzig - One Day
12. M&C feat. Rebecca Rudd - Do You Want It Right Now
13. DJ Milano - Sweet Child Of Mine
14. Styles & Breeze feat Karen Danzig - Heartbeatz
15. Enlighten - Born Again (Cheeky Trax Remix)
16. Aquagen - Girl (Uhh Uhh Yeah Yeah) (FNP Remix)
17. Ultrabeat - Frankie's Lead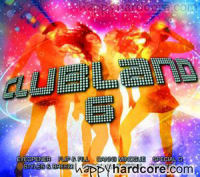 Hardcoreland coming soon?
2004/11/01
The latest from Pitched Up recordings
A lot of people have been asking what's coming up on Pitched Up recordings, one of the only US based hardcore labels in existence. We have taken a visit over to the Pitch Up grounds and grabbed the latest info and audio for their upcoming releases, which are at the moment TBA.

PUR006
A: Blizzard Boys - Ruff Beatz
B: Justrich - About to Get Hardcore

PUR007
A: AC Slater - Rave Music (Oli G Remix)
B: AC Slater - Hip Hop 2004