NEWS
2003/10/30
Radio1 John Peel is not enough
The hardcore artists CLSM have taken the fight to get hardcore and hard dance more public broadcast radio play in the UK. Their latest CLSM release on CLSM's sister label G-core is entitled "John Peel" referring to the fact that BBC's radio talk show host John Peel is currently the only person playing hardcore on public FM radio in the UK.

Jimmygoat (aka CLSM) have started an online campaign where you can show your support for more "kick drum music faster than 140bpm" (aka hardcore / hard dance music for the non techno people).
Sign up and show your support at
http://www.bbc.co.uk/dna/ican/club82
Click to discuss this resource
2003/10/29
Rave and Beats Japan new audio
2003/10/27
Wonderful days original press
Author: silver

Shop.HappyHardcore.com has brand new very limited stock of the original pressing of Wonderful Days by Charlie Lownoise and Mental Theo containing the much sort after Rotterdam Mix!

This track is a pure hardcore classic and sells second hand on Ebay for easily over 30 pounds ($50), we have it new for only 6.80 pounds ($11.50) plus shipping. Click to order Wonderful days direct. Don't delay this stock is LIMITED!

We have also re-stocked our hardcore back catalogue and our oldskool back catalogue with hundreds of rare and hard to find items such as stuff from Knitebreed, Question Mark, Hectic, United Dance, Impact, Malice Records, Fusion, Alpha Projects, Twisted Vinyl, Man From Uncle Records, XL Recordings, Altern 8 just to name a small few... What are you waiting for !?
2003/10/27
9000 hardcore members
HappyHardcore.com has passed 9000 registered members! Wow what a milestone. Still making us the biggest hardcore site in the world. Congrats to all the hardcore members and just when you thought your favorite site could not get any better we have more features coming soon!
2003/10/26
Got i-tunes?
Last week saw the launch of the Windows version of Apple's i-tunes, a popular Mac audio player. Under the radio section of both Windows and Mac versions of i-tunes there is a small "electronica" radio list with HappyHardcore.com Radio listed as two of the 64 streams available! HappyHardcore.com is proud to be representing hardcore on such a global scale.

This is excellent coverage for hardcore and to show the masses we are up there with the best of them. HappyHardcore.com now is the only hardcore station listed inside Microsoft's Windows Media Player, Apple's i-tunes and AOL's Shoutcast / Winamp.
2003/10/20
Scott Brown on MTV!
Scott Brown's single 'I would stay' been signed to the record label All around the world (AATW) for commercial release. This is the same label as Flip and Fill, Bang! N-Trance and Ultrabeat just to name a few. This new track is the new version of 'Turn up the music' that some lucky people that live in the UK might have heard at the Slammin outdoor event a few weeks back. But more importantly the release will also feature hardcore mix!

We have been told to look out for the video soon on MTV! Well done Mr Brown!
2003/10/20
Anniversaries and Anabolic Frolic
You would not believe it would you - October 2003 is the month of anniversaries on HappyHardcore.com.

July 2003 marks HappyHardcore.com Radio's 4 year anniversary!
September 2003 marks HappyHardcore.com's 4 year anniversary!
October 2003 marks Totally Sweet Radio's 1 year anniversary!

Some of our members have been with us from the start, some of you might even remember the first version of HappyHardcore.com and its infamous "white page", or tuning into our early 10 hour radio playlist which now consists of over 130 hours of fresh upfront hardcore mixes.

What does all this mean? HappyHardcore.com is the largest hardcore site in the world and one of the longest running. HappyHardcore.com Radio is the longest running hardcore station in the world and most popular fully licensed 24 hardcore a day hardcore radio in the world and we have all its members, donators and contributors to thank for it.

Joining the celebration Totally Sweet Radio headed up by The M'asstodon sound crew celebrates their 1 year anniversary with an excellent look back to the year of shows, plus an intro to the show that says it all, a must listen. The TSR crew have done something special for their first show of year 2, this week' show Anabolic Frolic is the guest DJ, spinning a live DJ set and answering a few questions from the guys.
2003/10/20
Industrial Strength Records are back!
HappyHardcore.com learnt that Industrial Strength Records launched by Lenny Dee in the USA in 1991 with PCP's "Mescalinium United" helping create the first hardcore techno label in the world and one of the first electronic labels in the USA are back!

ISR has featured in the past such artists as Carl Cox, Richie Hawtin, Laurent Garnier, Daft Punk, The Mover, DJ Paul, Manu Le Malin, Cirillo, Oliver Chesler & Nasenbluten... among many other. Owner and founder Lenny Dee are back alongside ISR's co-owner Julie Separovic with even more destructive mind twisting beats for the world to frown upon!

New Release News :-
The relaunch of Industrial Strength Records through France's own premier electronic music company UWE see's ISR 50 ... A slammin' 12" double pack with trax lifted from the USA's "Industrial ****ing Strength 4" compilation.

Forthcoming ISR Releases :-

DJ Skinhead - ISR 51
Jensen & Lowtek - ISR 52
Jeff Amadeus - IST 26

The Remix Project :
Featuring Crystal Distortion! (From Spiral Tribe)
Stormtrooper - Perfect Imortal Machines - ISR 53
and more to come....
2003/10/16
MasterWax & HappyHardcore.com 2004 sexy calanders
While we are not going to win any political correctness awards on these ones, HappyHardcore.com and MasterWax have created two separate 2004 wall calendars for your home, office, room, school or wherever!

We used a sexy professional model sporting MasterWax and HappyHardcore.com clothing and professionally photographed in the entire thing in the Arizona desert USA! The calendars contain 12 shots - one per month and are printed on glossy thick paper. They measure 21.5cm x 28cm (8.5" x 11") when folded, and 28cm x 43.cm (11" x 17") when hanging on your wall. They cost $19.99 each.

You can order here or by selecting T-shirts and merchandise from the shop pull down menu above and then selecting calendars.






2004 calendars - click each image to view all months images per calendar
Click to discuss this resource
2003/10/15
Scott Brown comments on Bonkers XI (11)
Author: silver

Scott Brown has written some comments for his CD for the upcoming Bonkers XI (11). Interesting read:

Alright guys....
Lots of new shit on there so it should keep you going for at least a few days

I have to say something with regards to the various comments about me adding my OWN tracks to my mix (and past mixes)..... I am signed EXCLUSIVELY to React to do Bonkers, this means that all the times Ministry or Slammin ask me to do THEIR albums, I CAN'T do them. The payoff for all the guys who mix Bonkers, is that we can include our own tracks; this way we can stay with Bonkers Exclusively and not lose money.

On the last album, I was let down by so many producers who had promised tracks and didn't deliver, hence the large amount of my own stuff on there. This time, I've been overwhelmed with tracks (I even had to chop about 4 from the mix) so I've managed to get some variety this time!

Anyway, stop yer whingin' and go oot and buy it!

Bonkers XI (11) goes on sale November 10th 2003 and can be pre-order here NOW.

Source: ush.net
2003/10/15
Vinylgroover spotted back in hardcore
Several years back Vinylgroover was one of the biggest hardcore producers in the business, alas he left hardcore to pursue other genres with very good success. Vinylgroover has been spotted to be DJing a hardcore set at the upcoming event Rezzurection IV in the UK. Vinylgroover's back in hardcore business?
Click to discuss this resource
2003/10/15
You order the Red Pill
Author: silver

Hot on the heals of the Bonkers 11 news Shop.HappyHardcore.com is the first to have the limited edition red colored vinyl and CD single of the track Red Pill to buy.

Audio (MP3):
A - Storm & Euphony - The Red Pill
AA - Storm & Euphony - The Outer Limits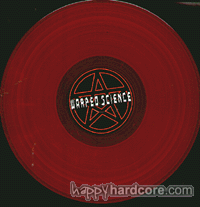 Just a little hard to swallow
2003/10/14
Bonker 11 - FOREVOLUTION
Author: silver

HappyHardcore.com has exclusively obtained the cover artwork, complete tracklist and release details on the soon to be release Bonker XI (11) - FOREVOLUTION! That right you see it here first. Rumors have been flying all over the place to when the album will be out, what tracks are on it and what the damn thing looks like... well wait not longer....

The album is released on the 10th November 2003, and will be accompanied by a TV ad campaign in the UK (and HappyHardcore.com). HappyHardcore.com will be starting pre-order shortly and will go on sale at Shop.HappyHardcore.com so keep tuned.

Update: Pre order here NOW.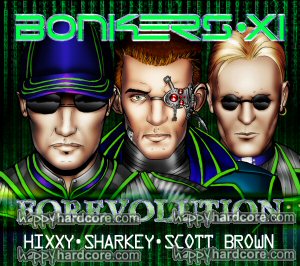 Bonker 11 - FOREVOLUTION
Click to discuss this resource
2003/10/14
Underground Warped Destructive Cloned Red and Blue pills
Author: silver

A massive release schedule has been sent to HappyHardcore.com from the new hardcore label's Warped Science, Cloned Records, Underground Recordings and Destructive Force. These new releases will be available within this month on vinyl with some now available on CD single. When they arrive they will be available first in HappyHardcore.com's shop.

Warped Science Recs 001: (Ltd Edition Red Colored Vinyl)
A - Storm & Euphony - The Red Pill
AA - Storm & Euphony - The Outer Limits
(also available on cd single release)

Cloned Records 002
A - Storm & Spinback - No Good For Me
AA - Storm & Frisky - Things U Do
(also available on cd single release)

Underground Recordings 001: (Ltd Edition Clear Vinyl)
A - Storm & Spinback - Break The Night
AA: Storm & Spinback - Hallucinating
(also available on cd single release)

Destructive Force 002
A - Storm & Phosphor - Suicidal
AA - Storm & Phosphor - Noise Makers
(also available on cd single release with an exclusive mix of noise makers)

Destructive Force 003
A - Storm & Menis - Dynamite
AA - Euphony - Time & Space (Wheres My Money Mutha****a Mix)
(also available on cd single release)

Destructive Force 004
A - Sunrize & Ac Slater - Total Chaos
AA - Sunrize & Ac Slater - Raw Power
(also available on cd single release with an excl versions)

Futher releases to follow shortly:

Destructive Force 5
Sunrize - The Darkness (Original And Storm & Euphony Remix)

Destructive Force 6
A - Storm & Dok - You ****!
AA - Unnamed Track

Warped Science 2
A - Storm & Euphony - The Blue Pill
AA - Storm & Euphony - Blinded

Warped Science 3
Dont Cry For Me Remixes (Dougal/Gammer & Storm/Euphony)
2003/10/10
Hecttech Records have a Revival Recordings
Author: silver

Hecttech releases have been on hold for a while due to distribution problems but HappyHardcore.com has learnt that is all sorted now and all Hecttech, HTSE, Fruity Cutz and the new Revival releases are now distributed exclusive by NuEnergy along with labels such as MasterWax, Bonkers, Blizzard trax just to name a small few.
H-TEC027, H-TEC028 are available to order direct from HappyHardcore.com with H-TEC029 & H-TEC030 available very soon.

Audio (MP3):
H-TEC027 [Click to ORDER]
A - In Effect - Technology
AA - In Effect - Back 2 Bass Kicks

H-TEC028 (One sided vinyl) [Click to ORDER]
A - Sharkey & K Komplex - Delusion

Hecttech have also released release info and audio on their latest label Revival Recordings
RVR001
A - Hardcore Rhythm Team - See The Light (Original)
AA - Hardcore Rhythm Team - See The Light (Topgroove remix)
2003/10/10
Why don't you just RFU?
Author: silver

RFU Recordingz a new hardcore label has set their sights on their first few releases. Quoted as "committed to releasing quality material" and "covering most sub genres of hardcore" and "pushing both established and up 'n coming talent from all over the world"... Sounds like a good start, keep your eyes and ears pealed for more on these guyz.

Release info:

RFU001
A - Contraption - Higher, Forever
AA - Contraption - Higher, Forever (Breeze & Styles remix)

RFU002
A - Sunrize - Let Me Go
AA - Sparky - Love Like This

RFU003
A - Invader feat Stargazer - Enraptured Soulz
AA - The Untouchablez - Murder-1

All three releases should be out this year, as well as a "soon to be announced"
unmixed CD album: "An Introduction to Climactic Moments" (RFUCD001)
Click to discuss this resource
2003/10/10
Hardcore Heaven awards 2003
The results are in for the UK based Hardcore Heaven Awards. HappyHardcore.com was the number one nomination for the Hardcore Web site award and came in second place in the final standing. We are quite honored to be included in a UK based vote and being the ONLY company or person outside Europe to be voted.

Final standings:
Best Hardcore DJ - Scott Brown
Best Hardcore MC - Storm
Best Record Label - Raverbaby
Best Hard Dance DJ - Mark EG
Best Website - Ush.net
Best Record Shop - IMO Records
Outstanding Contribution to Hardcore - DJ Sy

Congrats to all the winners espcially Paul, the award could not have gone to a better person and I'm glad one of us won the award :)