NEWS
2003/08/29
Win 1 pair of VIP tickets to Magna7 in the UK
With Tidy now going even harder into hardcore with their new Magna7 event to be held September 13th 2003 in the UK, HappyHardcore.com and Tidy are giving the chance for you to win 1 pair of VIP tickets! Competition closes September 10th 2003 so click the Magna7 logo below to enter and remember only enter if you have means on attending the event in the UK.








Tidy presents Manga 7 with HappyHardcore.com as a Media partner
2003/08/27
Magna 7
Take one gigantic old steel works in the UK, spend 50 million pounds to make it into a mind blowing science and exhibition centre and then carve this huge space into seven 'zones', load in the best production with breathtaking colour lasers, awesome sound and spectacular lighting, add the worlds biggest DJ's for the Harder Generation and there you have it, quite simply, a dance event that's unlike any other that's gone before it.
Words and pictures cannot describe just how breathtaking the Magna space is in the UK, and by adding 5000 of the worlds best clubbers, we know we have something that's from another planet!
Tidy have always had the ethos of delivering ground breaking and unique events, be it a 72 hour dance party in the depths of Wales, or, filling London's biggest dance club upto full capacity. Magna 7 is once again set to change the way we look at clubbing.
Magna 7 is like an indoor festival, with one small difference, it comes in at a similar price to the price that you'd pay for a normal night out clubbing!

HappyHardcore.com are proud to be a media partner with Tidy for this mind blowing event.

If you are in the UK you don't want to miss this event, 5000 people and check out the hardcore lineup!
Brisk, Scott Brown, Hixxy, Breeze, Robbie Long & Devastate, Topgroove, MC Wotsee, MC Storm, MC Whizzkid







Tidy presents Magna 7 with HappyHardcore.com as a Media partner
2003/08/27
Hardcore till I die!
React have informed us that they will be releasing a new lower priced CD in October 2003 called "Hardcore till I die". The CD will be a double pack by Hixxy on CD1 and Breeze and Styles on CD 2. This is not the "Raver Baby album" we reported on a few weeks back but a new project . The Raver Baby album has been pushed to early 2004. More hardcore for the masses!
2003/08/25
Getting Hyper!
HyperBeatz have released information and audio on their latest tune due to be released in the next coming months. Click below to listen. Don't forget HB002 (The Slammer / Living on hardcore) has also just been released and is available now from all good record stores!

Audio (MP3):
HB003
A - Fresh Beatz
B - Time To Rock







HyperBeatz 3rd release
2003/08/22
MasterWax 4 and 5 update!
Author: silver

If you are a regular to HappyHardcore.com you will know that MasterWax 4 and 5 were due mid July 2003 and were delayed... Today we received test presses for these extremely anticipated releases and they sound excellent! You should see the email we are getting for these hot releases! Rest assured both will be out within a month if not sooner!

First off the block is DJ Impact with MasterWax 4, we have packed this released with two the biggest, baddest and sweetest vocal hardcore tunes you'll hear this side of Jupiter.

A - DJ Impact - In Your Life
B - DJ Impact - Far Away







DJ Impact - In your Life / Far Away (MWX004)



But we don't stop there... oh no... hot on the heels of first ever international Japanese hardcore track Misono - Konomama, played by DJing spanning the four corners of the earth...

MasterWax is proud to present the latest in the series of Japanese tracks with the debut of Lia with MasterWax 5.

Not only have we got the KonoMama follow up, we got it remixed by the number one producer and DJ in the world at the moment for Hardcore, none other than Scott Brown! (OMG!) with help from DJ Evil of KFA fame.
We also whacked another on the release an excellent mix by the most talented DJ phosphor for the AA side.

A - Lia - I'm Feeling (Scott Brown and DJ Evil remix)
AA - Lia - I'm Feeling (phosphor remix)







Lia - I'm feeling (MWX005)



Three massive vocal hardcore tracks to send shivers down your spine and rock the dance floor. Defiantly two pieces of wax for the front of your record boxes.

Available from all excellent record stores and vinyl stockists worldwide!
2003/08/22
Electronical release
Electronic have released news on their latest upcoming releases, we are told they have already been sent for mastering and should be expected in shops in a few months!

Electronic ETRIC010 12" - DOK EP
A1. Shanty & DOK - Route 88
A2. DOK - Isreal
B1. Shanty & DOK v AC Slater - So Many Things
B2. DOK - Tears In The Rain

Electronic ETRIC012 12"
A. Tazz - Take It All Back
B. Furious - Nightbreed

Electronic ETRIC013 12"
A. DOK & 7th Sense - Inside
B. Alek Szahala - Superstition

Electronic ETRIC014 12"
A. Tazz & Shanty - 50,000 Jars Of Hardcore Jam
B. Carbon Based & Nemes - Charmed Dreams
2003/08/22
Win Vibealite - A History of Hardcore CD!
It seems ages since we ran a competition on HappyHardcore.com so not to disappoint HappyHardcore.com and Rumour Records give the chance for 5 lucky people to win a copy of the brand new Vibealite - A History of Hardcore CD. You have until September 4th 2003 so click the CD image cover below to enter your details for your chance to win!

The CD will be released Sept 8th 2003 and you can Pre-order the CD now.


2003/08/20
Radio back up
Radio is back up and operational! We have completed the move to the new server to handle the demand, for the tech heads out there we are running on a dual 1.8Ghz Xeon with a few gigs of memory and tones of disk space. This servers only task is serving you the radio you love... The extremely popular Totally Sweet Radio on HappyHardcore.com will be also be served from this new machine, look for an announcement shortly.

HappyHardcore.com (the web site) will also be moving next to it's own new separate server shortly which will speed up the site and allow for further expansion.
2003/08/20
Kevin Energy publicly speaks out about Industry Sharks
Kevin Energy no stranger to the hardcore scene yesterday publicly spoke out via a email to all industry keys members and well as NuEnergy members plus a public posting on the Nu Energy web site. HappyHardcore.com has the complete text for your reading, it's sad but very true story and I must say there are many people like this in the hardcore scene, HappyHardcore.com has not delt with the record label named in the text so I recommend everyone read the entire passage and make up your own mind.

"I would like to make you aware of an Australian Album company that has been licensing music and not paying the due debts to the labels. Slamm records and Down Under Ground operate from Sydney. They have licensed material from our Collective in the past and not paid a penny of the advances let alone royalties. When contacted the owner Chris AKA Chris Cross has been rude, aggressive and offensive. I am also aware of other UK labels that have had the same problem with this company. Our scene of small and independent companies relies on good day to day business which can not be achieved with this company. If you are a record label and have been approached for licensing by Slamm Records or Down Under Ground please take the above into account. If you are a customer looking to purchase a compilation you may like to think about where your money is actually going."
2003/08/18
Vibealite - A History of Hardcore
Rumour records have come up with the good once again not disappointing anyone with their commitment to quality hardcore CD releases. Next on the release schedule is the hardcore CD "Vibealite - A History of Hardcore" mixed by Stu Allen and DJ Sy. The track listing is an excellent coverage of old and new tunes in a neat double CD pack!

The CD will be released Sept 8th 2003 and you can Pre-order the CD now.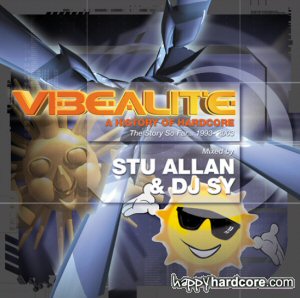 Vibealite - A History of Hardcore
2003/08/18
Radio Stream offline for a little
We are upgrading our radio stream to a newer / bigger / fast machine to handle the listeners we are getting. HappyHardcore.com is the largest 24 hour fully licensed hardcore radio station in the world and we want to stay that way! The radio will be off and on for a few days sorry for the problems but it will be all worth it in the end including new streaming bitrates for the Totally Sweet Radio show!
2003/08/17
Pretty Green Eyes goes top 3
A hardcore tune never dies, and this is true of Force and Styles's track Pretty Green Eyes. The trance pop cover version by UltraBeat has reached the number 2 position in the UK national charts!. This increased media exposure for the new version should also help to promote the hardcore version and in turn hardcore music.

This is the 2nd hardcore cover tune to get into the top 3 UK national charts! And HappyHardcore.com wish to congratulate Force and Styles plus Ultrabeat for their success.
2003/08/12
HappyHardcore.com nominated best hardcore web in the world!
Author: silver

The Hardcore Heaven final nominations have been announced on the Hardcore Heaven flyer. All at HappyHardcore.com are honored to be nominated as one of final nominees in best hardcore web site in the world category!
Final nomination votes have started, to get your vote on goto the hardcore heaven voting page and only vote for the finalists below (all other votes will not be counted).

We are asking that all 8300+ members of HappyHardcore.com, 4000+ members of HappyHardcore.DJ and the 23,000+ members of Digitally Imported (our Radio partner) vote for their favorite hardcore web site HappyHardcore.com and help us win this award. As the only non-UK based hardcore nomination we are quite honored to be in the finals. Lets bring this award home for all of us at HappyHardcore.com!

Here is the complete list of final nominations:
Best hardcore DJ:
Darren Styles, DJ Sy, Brisk, Hixxy, Scott Brown, Dougal, Breeze, Sharkey, Luna C, Kevin Energy, Marc Smith, Seduction, Paul Elstak, Sarge

Best Hardcore MC:
Marley, Storm, Odyssey, Smiley, Whizzkid, Wotsee

Best Hard Dance DJ:
Mark EG, Jon Doe, M-Zone, Billy Bunter

Best Record Label:
Evolution, Next Generation, Quosh, Raverbaby, Essential Platinum, Nu Energy

Best Website:
HappyHardcore.com, USH.net, SlamminVinyl.co.uk, Hardcore-Heaven.net, QuoshRecords.com, IMO.co.uk

Best Record Shop:
Spinn Inn (Manchester), Catapult (Cardiff), IMO (Sutton), Rapture (Colchester), Old SKool Daze (Birmingham), Dance 2 (Guilford)

Outstanding contribution to hardcore:
DJ Dougal, DJ Sy, Slammin Vinyl, Scott Brown, Hixxy, Darren Styles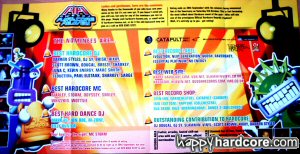 The Hardcore Heaven Final Nominations - Click for bigger image
Click to discuss this resource
2003/08/06
Ultra Beat - Feeling fine
Ultra Beat's new track is on the internet, and it's a cover of Unique aka Force and Styles - Feeling fine. Ultra beat are signed to All Around the World, the same label as Flip & Fill. The track is a trance pop version, lets hope there is a ripping hardcore remix included on the single or 12".

Audio - full length (Windows Media):
Ultra Beat - Feeling Fine
Click to discuss this resource
2003/08/05
Happy Bonkers 11 and 12
Scott Brown has confirmed that he will be mixing Bonkers 11 and 12. Sources close to the project have also told HappyHardcore.com that all track lists are complete for Bonkers 11 and the release will be in November 2003!
2003/08/03
A new kind of dance
HappyHardcore.com has received word on the latest from the artist DOK. DOK has been busy and is now featuring on a new label called Primal Dance run by Graham B of Primal Dance events that is set to launch in September 2003 via IMO distribution. HappyHardcore.com has exclusive audio for your ears. You heard it first here :)

Audio (Windows Media):
Primal Dance 001
A. Graham B & DOK Feat. Sara - Moonlite Sky
B. Graham B - +1
2003/08/01
Hardcore Record database passes 1000
HappyHardcore.com has passed 1000 releases in the HappyHardcore.com release database. This might not sound like a lot but that represents over 3100 tracks, over 1100 artists and over 480 labels each with their own individual pages and all interlinked.

Many thanks to all the members of HappyHardcore.com that emailed us their record lists and pieces we were missing to make the database possible. We still have many items missing but are making excellent progress. The goal is to have a complete and accurate hardcore database for reference and so each members can catalogue their own records in their own database lists.