NEWS
2004/02/27
Rumour + Scott Brown + DJ Neophyte = Hardcore
HappyHardcore.com has received word that a brand new Hardcore 3 album featuring Scott Brown and DJ Neophyte is planned for release this year (2004) from Rumour Records. One for all the gabba / speedcore fans out there.
2004/02/27
Update on UK BBC Radio 1 hardcore
The Radio 1 web site have updated their page showing the new show. It all started October 2003 with CLSM / Jon Doe releasing the track "John Peel Is Not Enough" and the start of a BBC voting campaign located here. As reported first here at HappyHardcore.com last week Hixxy & Sharkey will be presenting a show on the UK BBC Radio 1. The show has been renamed to "John Peel Is Not Enough" a tribute to hardcore, John Peel and CLSM's hard work in getting the word hardcore known inside of Radio 1.

The two hour show will be live to air on Thursday March 18th 2004 at 12 midnight - 2am, with a 7 day achieve up on the web site for all the international peeps that miss it live. Special guests for this momentous show include Brisk, Ham, Sy, Dougal, Breeze & Styles and Jon Doe with MCing talents of Storm & Whizkid.
2004/02/26
Bonkers 12 - The Dirty Dozen + pre-order
Bonkers 12 is to be called "Bonkers XII - The Dirty Dozen" according to sales notes released from React to stores. HappyHardcore.com also has a release date for Bonkers 12 as 11 May, 2004, this is the date given to stores such as Amazon and in the past has never been too far from the actual release date (7 days max).

If that was not good enough news you can PRE-ORDER this release NOW!


2004/02/26
Hardcore till I die 2 DJ's
React have released their sales notes to stores on who is mixing Hardcore till I die 2, we are pleased to announce that the DJ's are Hixxy, Dougal, Gammer & UFO as according to the sales notes at least.

Hardcore Till I Die 2 can be PRE-ORDERED here.
Click to discuss this resource
2004/02/24
Scott Brown - Hardwired
Evolution Records have released news that Scott Brown's is mixing a new album called Hardwired. In discussions with Scott he has told HappyHardcore.com that Evolution Records are at the moment saying the release will contain one mixed CD and one unmixed with new stuff and some older ones. The new album has a release date of around June 2004. Excellent news for all the Scott Brown hardcore fans out there.






Brown get's wired
2004/02/24
Ready for the reload?
A new hardcore label called Remix Reloaded is set to enter the hardcore matrix very soon. Remix Reloaded will include a load of new material from owner and operator Frantic and according to Remix Reloaded will include remixes from Breeze & Styles, Hixxy, Scott Brown, Brisk, Sy n Unknown, DJ Energy and almost every good producer on the planet. The first 3 releases are as follows:

RELOADED001
David Pammies - Torn (Breeze & Styles Remix)
David Pammies - The New Spirit

RELOADED002
David Pammies - Torn (Scott Brown Remix)
David Pammies - Torn (Original Mix)

RELOADED003 Updated
Geos - Easy inside (Sy & Unknown)
Geos - Easy inside Original mix.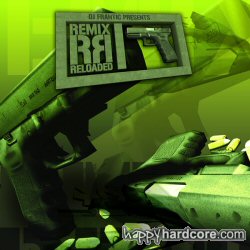 Remix Reloaded Record Rover (say in Scooby Doo voice)
2004/02/23
Blatant beats... the next generation
2004/02/20
Resistance Recordings bring you soup
New sublabel of Resistance Recordings called Soupwarz brews up their first release. Soupwarz have told HappyHardcore.com that they vow to bring some fun back into music with their first release "After Midnight already receiving plays all over the world and throughout the USA. DJ Tronic side features familiar blend of American Hard House/Hardcore and the Carlos Alfonzo side features a blend of funky house and techno.

Audio (Real Soup... I mean Real Audio):
DJ Tronic - After Midnight
DJ Tronic - Pac This!

Carlos Alfonzo - I Wish U Knew
Carlos Alfonzo - Spirit of SF
Click to discuss this resource
2004/02/19
Hixxy & Sharkey on BBC Radio 1
BBC Radio 1 have heard the hardcore call and HappyHardcore.com has the scoop. UK BBC Radio 1 are going to be playing a special one off (test if you will) hardcore show called Hixxy & Sharkey on Radio 1.

The two hour show will be live to air on Thursday March 18th 2004 at 12 midnight - 2am, with a 7 day achieve up on the web site for all the international peeps that miss it live. Special guests for this momentous show include Brisk, Ham, Sy, Dougal, Breeze & Styles and Jon Doe with MCing talents of Storm & Whizkid.

Hixxy will also be doing an addition live DJ set the day before on Wednesday March 17th 2004 on the John Peel show.

UPDATE 2004/02/20: The dates of the show have been corrected to reflect actual real days :)

BBC Radio 1 is the national radio station run in the UK.
Click to discuss this resource
2004/02/19
Bonkers 12 tracklists
We got em, Hixxy and Breeze & Styles... keep your eyes peeled to HappyHardcore.com - they'll be up here as soon as we have the green light.
2004/02/19
Hardcore winners
The HappyHardcore.com and DecaDance (MoS) Hardcore giveaway has completed and winners have been emailed - Congratulations to all the winners the CD's are in the post today!

HappyHardcore.com has received a promo copy of the pack and it's well worth the buy. It's a 6 CD pack! 3 CDs DJ mixed by Sy & Unknown and 3 CD's unmixed containing both new stuff and oldskool classics! Everything from CLSM down to Slipmatt is on this CD, you can't go wrong just check out the tracklist. You can order now for under 9.99 UK pounds / $18 US dollars / $23 Australia dollars / 2000 Japanese yen, did I mention it is 6 CD's!


2004/02/16
Hardcore till I die 2 update
HappyHardcore.com has been in touch with React on yesterday's release date of Hardcore till I die 2. The March 8th 2004 date is not going to be the release date, it was an early release date that somehow slipped out to stores.

But the other news is that Hardcore till I die 2 will be mixed by a different DJ to the first one, we don't know who it is yet, but if we were to guess a *safeish* bet would be Hixxy & UFO due to the fact the RaverBaby is involved on this release and the Bonkers 12 release already has Breeze & Styles mixing the 4th disc (this is a guess please don't quote us).
2004/02/14
Bonkers 1 silver edition + Bonkers 3 gold editions pre-order
2004/02/14
Hardcore till I die 2 in March 2004?
Hardcore till I die is a budget CD released from React, the 2nd CD in the series was suppose to be released before or around the time Bonkers 12 was released (around summer time), but Amazon has the title listed as being released March 8th 2004! React are not confirming nor denying this is the actual release date. You can check out the pre-order the release now if this in fact is the actual release date.

On another note, to concerns on our news - HappyHardcore.com news is confirmed from multiple sources we never post anything that is a Rumor or speculation, if it's posted here it's a fact.
2004/02/13
Totally Bonkers!
HappyHardcore.com has the exclusive scoop on Bonkers 12 from React. Firstly Bonkers 12 for the first time will be 4 CD pack! Talk about some hardcore madness... The CD's will be mixed by Hixxy, Sharkey, Scott Brown and the 4th disk to be mixed by Breeze & Styles! Bonkers 12 will see a release date "a bit before summer" (direct quote).

Update: Sharkey has released the artists featured on his disc: Sharkey, K-Komplex, Energy, A.M.S, Marc Smith, C.L.S.M, Vagabond, Lost Souls, Marc Ashley, Robbie Long, Stormtrooper, Scott Majestic, Wizbit, Ponder, Impact, Invader, Stargazer, Ting, Dougal, Gammer, Andy Vinyl and Matt Style

As reported a few months back Bonkers 3 has gone gold (in sales), React will be releasing a special limited gold edition of Bonkers 3 as well as a limited silver edition of Bonkers 1 (which has gone silver in sales), they will both be released 29th of March 2004.

The artwork does not look the best on screen but the silver and gold areas on the artwork below are reflective silver and gold!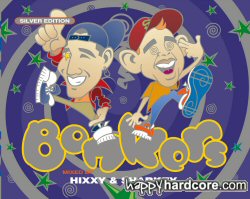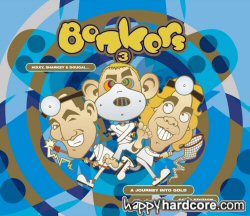 Bonkers 1 Silver & Bonkers 1 Gold Limited Editions
2004/02/12
Time for a trip2nite?
A new hardcore label lets loose, trip2nite records first release T2N001 is out very soon:

Audio (Real audio):
A - "Frozen" - DJ ERROR
B - "The Dark Side" - DJ ERROR

T2N002 is to be released end of Feb/early March.
A - "Rescue me" - DJ ERROR
B - "307" - DJ ERROR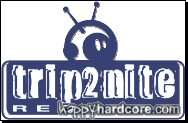 Come and take a trip2nite :)
2004/02/09
Rapture TV covering hardcore
Rapture TV is a music channel available on satellite / cable TV in Europe similar to MTV or VH1 in other countries. HappyHardcore.com has learnt that Rapture TV have been filming and reviewing a few UK hardcore events in past few months and plan to film more in the future the for their channel.

Apparently Rapture TV have got plans to start devoting a lot more time to new breeds of music that aren't generally popular with the commercial groups... i.e. hardcore music!
Click to discuss this resource
2004/02/06
The ghost of DNA gives out free hardcore
Remember the hardcore producer DNA? Why did he leave the hardcore scene? DNA has explained this before in our forums. We'll run over it quickly in case you are new:

DNA was booked to play a Slammin Vinyl gig a few years about, he turned up with a load of brand new dub plates featuring lots of unheard breakbeat tracks. As it goes DNA mixed it up with some new Drum & Bass records and according to DNA got the best crowd reaction of any set he had ever played, not to mention best MC reaction, best stage dancer reaction, best reaction from a promoter that booked me on the spot, best reaction from Mark EG who missed his next gig to stay and dance.. etc.

Of course, that didn't stop some miserable people in the UK trying to persuade everyone that it had been a total failure, the resulting cluster**** of message board politics being the final straw for me. DNA killed the DNA name and left the scene as a response.

Most of the those Slammin Vinyl dub plates were smashed or given away in anger and frustration and the dat tape masters were destroyed. DNA didn't know any had survived until he received a scratched up old CD in the mail from good friend Ponder.

DNA has decided to relenquished copyright on these tracks and give them away for free at 160k MP3's. These tracks are 3 years old and do not have track names, they are as they were played those years back at Slammin Vinyl and with the power of the internet they are offered to everyone for free!

Due to the size of the download (30 megs zipped) we are not sure how long the bandwidth of the side hosting them will hold up, we will keep the link or mirrors updated as long as we can.

Update: Server has been overloaded and files removed. We will keep you informed if we can get a mirror up.
Click to discuss this resource
2004/02/05
DJ Fade fades from hardcore...
DJ Fade has announced he has retired from hardcore music stating he needs a change and a break from "the rave scene". It's sad to see a talented producer leave hardcore, we wish Fade all the best with whatever you get upto. Here are Fade's last words:

It is with this post that I am announcing my official retirement from the rave scene, a decision that has not been easy as it has had a major influence on my life for the last 11 years, and provided many fantastic memories, wicked nights, and great crowds in many cities and towns arond the world. I have met so many people of all nationalities, all sharing a common love of the music.

I have been through all aspects of the scene, starting off as a DJ in 1993, (Thanks to Jungle Nation and Tazzmania), then moving into production in 1994 (Thanks to Martin aka Krafty Cuts for releasing my first single), promoting and financing a rave in 1995 where I lost £9000 in one night ( a harsh lesson in promoting), and then concentrating on production and DJ'ing. I have seen all the highs and lows, good and bad, honest people and severly dishonest people who leech of other peoples talents for their own gains. Oh well, what goes round comes round as they say, or is it dont kick someone on the way up as you'll get kicked twice as hard on your way back down ?? Some people will learn one day, I know I can leave the scene with my head held high, I have never scammed anyone financially and pay people who work for me, unlike some..

It is going to be 11 years I will never forget, and after having released over 100 record releases over the years, plus ones I engineered for other people, it adds up to a pretty large figure, on that I am proud of.

In the last couple of years I have taken a large step back, exploring other avenues to stimulate my brain, 11 years of kick drums have taken their toll, and I need a change of pace into something else.........??????

I'm also selling my main record collection, although I am keeping the best ones behind, I am selling over 260 records, many many very rare classics dating back to 1991, the list is available in Excel spreadsheet format by emailing me at fadesale@btconnect.com , prices from £2-00 upwards, priority to anyone ordering large numbers, serious offers considered for the lot. Discounts for large purchaes.

I would like to thank the hardcore mafia for the harsh lessons teaching me so much about the inner workings of the music and club scene, and for showing me just how corrupt it can be, and alerting me to loads of very common scams and tricks.
It has been like serving a very long music business and production knowledge course, to anyone out there that wants some advice ...

1. Less Is More (Thanks to Slipmatt for that advice) - sometimes it is easy to overcrowd a track by putting too much in, although there is a balance between too much and too little.
2. Be Careful - It has surprised me actually how many so called 'big players' would sell their grandma to make some money, never mind pissing on you whilst you line their pockets. Don't trust what many people tell you. There are many 100 % genuine major DJ's past and present (you know who you are) that I still have 100% respect for after all this time, there are also some very untrustworthy ones that I have lost every ounce of respect for.
3. Don't Sell Yourself Short - Realise that you are not doing promoters 'favours' when you charge peanuts for a gig, no matter what you think most of them are not real 'friends' and would not pay you extra if they made a good profit. Similarly most labels will end up paying peanuts too, obviously I must have been a monkey to some of them !

Finally I would like to thank everyone who I have met, had the pleasure of playing records in front of, anyone who has bought or enjoyed one of my tracks, and to anyone who has supported the scene.

Text from Ush
2004/02/03
Lia - I'm feeling goes to 2nd re-pressing!
Author: silver

Lia - I'm feeling on MasterWax 5 has gone onto its second re-pressing! What does that mean? It means we have sold out not once but twice! This additional pressing makes MWX005 the 2nd largest release on MasterWax with Blaze! - til the day (MWX001) being the largest.

We are still selling units at a steady rate so make sure you get one before we are out of stock again.
2004/02/03
Win a copy of the 6 CD pack Hardcore
HappyHardcore.com and DecaDance (MoS) are giving you the chance to win one of ten copies of the new CD 6 pack Hardcore. Competition closes Feb 12th 2004 so get your groove on and click the CD image below to enter!

Actual CD release date is Feb 14th 2004, you can Pre-order now.


2004/02/02
We have A-tention Angels for sale!
Author: silver

A-tention - Angels is probably the most wanted track in hardcore today, we have personally seen people buy this record second hand for over 500 US dollars! It regularly sells for over 200 US dollars (and people do buy it).

Shop.HappyHardcore.com has the limited clubscene EP 12" including the A-tention Angels house mix on it for only 4.68 pounds (USD$8.50 / AUD$11.22 / YEN900) plus shipping. Note this is the house mix - the record is pressed at 45.

Do not miss out on this chance to own a piece of hardcore history, once these are gone they are gone - ORDER NOW!

Tracks include Angels, Ultra-Sonic - Check Your Head and Soap On A Rope.


2004/02/02
RIAA gets heavy on selling DJ Mixes
DJ Mag is running a story about the RIAA clamping down on DJ mixes for sale that are unlicensed. According to the article:

They (the RIAA) have already confiscated $100,000's worth of mix CDs from independent record stores across the US.

With news like this from American and our UK news posting about illegal tape packs last week it finally seems that electronic artists and labels have said enough is enough and what is considered fair has now crossed the line.
Click to discuss this resource