NEWS
2003/09/25
Hardcore til I die artwork, tracklist and pre-order
As reported weeks ago on HappyHardcore.com React are releasing a new low budget double CD called Hardcore Til I Die. Pricing is only 7.99 pounds ($USD 14) with the second disc is not mixed - Perfect for all those CDJ DJ's out there! The CD will be hitting the stores Oct 6th 2003 so get your pre-order on now!

Complete track list can be found here.

You can pre-order the CD here.


Click to discuss this resource
2003/09/17
HappyHardcore.com Vinyl / CD / Music shop launches!
The wait is finally over, the rumors are true and the most user requested function on HappyHardcore.com is finally here! I am proud to announce HappyHardcore.com has it's own FULLY STOCKED vinyl / CD / music store for you to buy all your latest releases! Through our exclusive partnerships with mail order companies HappyHardcore.com now gets the newest and best releases first as well as the oldskool classics!

Not only do we have thousands of hardcore and oldskool titles both NEW and OLD we have all your other genres as well, hard trance, hard house and even hip hop if that's your flavor as well as a tone of others genres to check out...

To order and see what we have in stock in the new store, mouse over the "Shop" button in the white navi menu and click Vinyl / CD / Music Shop or just press "Shop" in the white navi for quick access.
Click to discuss this resource
2003/09/16
Totally Sweet Radio goes multiband
As promised a few weeks back Totally Sweet Radio on HappyHardcore.com has gone Multiband with no more login required. We have split the old 56k stream into one 128k stream for the broadband peeps and one 24k stream for the dial up peeps. We are still in testing stages so please let us know if you are have any problems.

We still of course have our HappyHardcore.com Radio and both networks can be launched from the Radio page.


Click to discuss this resource
2003/09/16
A picture says a thousand words
Evolution 68 (EV67) Ice Cold 2 and Evolution 69 (EV69) Definition remix picture disc artwork has been posted to the net! As well as the next coming releases from Evolution and E-plus.

EV 70 - Scott Brown feat DMO - I'm in heaven / raw power
Plus 10 - Plus System - Do it like we do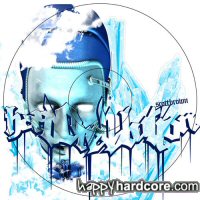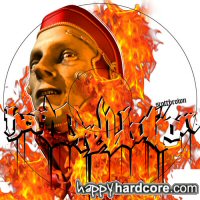 Ice Cold 2 / Definition of a Bad Boy (Click either to enlarge)
2003/09/12
HappyHardcore.com server move completed!
The HappyHardcore.com server move seems to have gone well, I am sure everyone can notice the speed increase, especially in the forums. The new server also opens up many new doors in terms of expansion for HappyHardcore.com, keep your eyes peeled we are going to be launching a new things in the coming days / weeks!
Click to discuss this resource
2003/09/10
We are on the move.
HappyHardcore.com is relocating its servers this week to help handle our server traffic and allow for future expansion.

We have set the wheels in motion and are expecting no down time, please excuse us if there are any hiccup's during the change over.
2003/09/09
Raw is hardcore!
DJ's Cloudskipper & Reese from the US have joined forces with Uplift & Stargazer for Raw Elements 6 due to be released within a month.
According to the Raw Elements crew the A side is a pounding, full-fledged energy monster (grrr), with huge trancey riffs and a piano hook that will get you every time. While the flip side is a departure from the Raw Elements norm, led by breakbeats all the way, with an incredible buildup that will give you chills up and down your spine.

Audio (Real Audio):
Cloudskipper, Reese, Uplift, Stargazer - Altered State
Cloudskipper, Reese, Uplift, Stargazer - Substance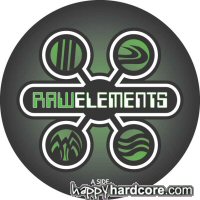 Raw Elements 6
2003/09/09
Quoshing out DVD style!
The Quosh boys have compiled their very own DVD with over 2 hours of digitally recorded footage from the events Uprising in the UK recorded on the 26th June 2003 (Sy and Unknown) and at the Vibealite in the UK recorded on the 6th September 2003 (DJ Sy with MC Storm).
Both sets are unedited and the audio is not overdubbed, so both are the original full sets as recorded on the night.

The DVD also contains a few bonus extras recorded from DJ Sy's set at Vibealite's "Summer Sensation" in the UK recorded on the 14th June 2003!

The DVD is region free and PAL format (take care US, Canadian and Japanese orders) and is priced at 10 pounds plus 2 pounds P&P, and is available to buy through the newly designed Quosh Records online store.

UPDATE: Quosh are now releasing a new NTSC version as well for all other countries!


2003/09/09
Magna 7 pictures posted
This Saturday the 13th of September 2003 in the UK the Tidy crew brings you Magna 7. That's 7 Zones of the best sounds around, and of course hardcore is represented in a big way with the Hardcore Zone! We have posted some photos and done a little write up of the venue and zones to wet your appetite, click on the image below to read the full story. Don't forget you have one more day to win the VIP ticket enter here.


2003/09/08
E to the K to the S to the R (EKSR Records)
A new US based label is set to hit the streets next week called EKSR Records and HappyHardcore.com has the details on the release with audio. The release is distributed via Phusion Records in LA and "should" make it's way to the UK within a month.

Audio (MP3):
A - Mark Shepherd - So Light Negative
B - Mark Shepherd - So Light Original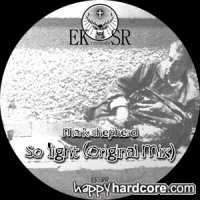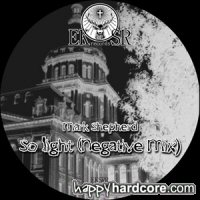 EKSR Records first release
Click to discuss this resource
2003/09/07
Bang! are back and Lost in Space
Bang! is one of the most known names in Hardcore music, nearly all hardcore DJ's own and play their tunes. Bang! have CD releases worldwide and even been licensed to video games such as world hit game "Dance Dance Revolution" by Konami. Bang! the group have been a little quite of the past few years releasing stuff under other names such as Blaze! and Nimrod but the news is here that Bang! are back

Bang!'s first project is the "Bang! Vs Paradise" single "Sunshine On A Cloudy Day" that's to be released very soon. The added news is that now there is a hardcore mix of this excellent tune remixed by DJ Storm & Euphony, and according to Nick of Bang! "it's a corker!"

But that's not even half of the news... Bang! are set to release a new track called "Lost In Space" which is Shooting Star part 2

This track another joint venture project with extremely well known and talented N-Trance which have created a A side mix that according to Bang! should get the track into the charts. The Hardcore mix also be on the CD!

Audio (MP3):
N-Trance - Lost In Space (Shooting Star part 2) (Commerical Trance)
Bang! - Sunshine On A Cloudy Day (DJ Storm / Euphony Mix) (Hardcore)
Bang! vs Paradise - Sunshine On A Cloudy Day/Bang! (Commerical Trance)
Bang! vs Paradise - Sunshine On A Cloudy Day/Paradise (Commerical Trance)
Click to discuss this resource
2003/09/05
We want your vote NOW!
As reported a few weeks back HappyHardcore.com has been nominated the "Best hardcore web site in the world", we want to win this award and we ask everyone to vote for your favorite web site. As a finalist we want to bring this award home for everyone who enjoys HappyHardcore.com and it's features. We want everyone to vote, we want you all to think about what is the best site in the world for hardcore? Look at all the sites nominated, and you decide...

As for HappyHardcore.com, we are the largest hardcore web site in the world, we have the most members, most page views, most hits, most user sessions with members from 108 countries! If you have never checked out our site before, we invite you to have a look at our multi bit-rate radio streams, news, forums, chat, interlinked record / artist / label database system with over 1400 record release items, integrated event systems, competitions, real time track title streamers and shop.

To get your vote on goto the hardcore heaven voting page and only vote for HappyHardcore.com!

We are asking that all 8400+ members of HappyHardcore.com, 4000+ members of HappyHardcore.DJ and the 23,000+ members of Digitally Imported (our Radio partner) vote for their favorite hardcore web site HappyHardcore.com and help us win this award. As the only non-UK based hardcore nomination we are quite honored to be in the finals. Lets bring this award home for all of us at HappyHardcore.com!
2003/09/04
A Stompy September
Producer and DJ Stompy has posted some of his latest creations as well as some in progress work. According to Stompy he has also about 25 tracks believe it or not looming in the background. Excellent news for all the Stompy hardcore fans out there.

Audio (Real Audio):
Stompy - All I can Remember
Stompy - untitled (still in production)
Stompy - Trust The DJ (still in production)
Stompy - Yo DJ
2003/09/04
Technics fires a CD-J out
A careful user has snapped a shot the new Technics CD-J player, we don't have any technical details on what functions the new player has but by looking at the image we can see it has a motorized direct drive spinning platter, SD memory support, pitch control (obviously), looping and possibly sampling support, a reverse and forward switch and it's damn sexy! We can assume scratching (ala the Pioneer CDJ1000 / 800) on the turntable should also be possible. Check out the images.

Thanks to HappyHardcore.com member kg4 for the news.


Click to discuss this resource
2003/09/01
The Vinyl strikes back!
Update on the new CD release Battle of the DJ's Vol 1, we have received word that not only will these track be released on CD but will also see a 2 piece vinyl release!. This is excellent news for oldskool DJ's and collectors wanting to get their paws on some really hard to find tracks.

Check out the vinyl track listing. Or if vinyl aint your thing buy the CD now.
2003/09/01
SMD Volumes 1-4 & Awesome
News from the vinyl frontier says that the highly popular SMD series 1-4 are being re-pressed and will be avaiable soon. Also re-presses of the Awesome catalogue will be available shortly.
2003/09/01
3 Kings are better than 1
A new US label is set to launch called 3 Kings, check out the audio.

Audio (Real Audio):
3KR001:
A: djFlippy - Free
B: PahtJ - Breath
Click to discuss this resource
2003/09/01
Slipmatt's back with hardcore and now the battles on!
DJ Slipmatt returns to hardcore in the form of a new CD release along side DJ Vibes in a new and interesting CD release concept! Basically the new label involved (Beat24-7) wants to know who you want to listen too and what tracks you want to listen too. So begins the battle... Beats24-7 plan to release 3 other CD's with 6 other DJ's, all hardcore, where you vote the winner of the battle.

First round is Slipmatt vs Vibes, winner goes to the next round. Get your vote on here with kick off starting 2nd September 2003.
Complete track list can be found here

The CD is on sale now and you can order the CD here.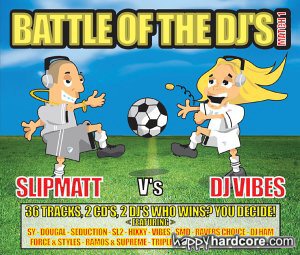 Battle of the DJ's Match 1.