NEWS
2004/04/30
Exclusive autographed pre-order for new Ravin Mad CD
A new CD is set to hit stores next week entitled Ravin Mad mixed by DJ Slipmatt. The CD contains 18 classic rave anthems spanning a decade of dance and HappyHardcore.com as an exclusive pre-order for everyone for the crazy price of 3.99 UK pounds + shipping! The pre-order copies will ship end of next week autographed from Slipmatt himself, we have a limited number of autographed versions available so first in first served.

HappyHardcore.com has the complete track list as usual - click here to check it out - The pre-order is good until 7th of May 2004 so click the CD image logo for the exclusive pre-order!

Please note a PayPal account is required for this pre-order.


2004/04/30
Serious upgrades for serious hardcore fans
HappyHardcore.com has had some massive growth in the last 6-12 months and we have done some serious upgrades to a few of our servers to help us. Firstly we have quadrupled the memory in the web server and database servers to help handle the traffic load at peak times and generally speed up the site.

The big news is that we have replaced our radio server with a new cluster that should not flake out when we go over about 420 listeners. The new server virtually has no listening cap and unlimited connections making us the biggest and most popular fully licensed, 24 hour hardcore radio station in the world (w00t). Many thanks to all the peeps that tune in to the radio, once the dust settles and any problems ironed out on the new server more true to air live shows will be starting.

All these upgrades are much in part to our most excellent donating members.
2004/04/28
Hardcore from the far east!
Hardcore from the far east as Japan lets Maddest Chick'nDom Records releases some of the best that Japanese hardcore artists have to offer via the new CD release "Hardcore Junkieee". The CD presented by DJ Chucky is only avaiable in Japan, but through the power of the internet and Amazon Japan you can order it!

The CD is not DJ mixed and we of course have the tracklist for you to checkout. So if you looking for some singles or tunes that you can actually DJ out look no further. All tracks are from known and up and coming Japanese artists plus two bonus tracks from UK artists - all have never been released before and are as fresh as dairy milk. The tracks included range from Happy Hardcore to extreme speedcore - it's all here.


2004/04/27
Force's new label details
As revealed in Darren Styles interview earlier today Force from the old hardcore duo Force & Styles is back producing hardcore. Details from the distributor have come to our attention, his new label will be called One Five records, the first release is by Force & Jack Speed with 3 tracks, 2 hardcore mixes and a trance mix with this release out in about 8-10 weeks.
2004/04/27
You're Shining - Styles & Breeze number 3!
News this week is that the commercial release of You're Shining by Styles & Breeze has reached number 3 in the UK commercial dance charts supplied by Music Week. This chart is complied by DJ reactions and radio play based solely upon the promo release. The release on All Around the World (AATW) includes the original hardcore mixes as well as a new trance Hixxy mix. Congratulations go out to Styles and Breeze.
2004/04/27
Interview: Darren Styles
HappyHardcore.com sits down one-on-one with hardcore artist Darren Styles for a quick five minute interview. Darren is currently making big waves in the hardcore scene with those waves breaking into other genres as other labels start to notice what hardcore is really about. Insider secrets are revealed including Force's (ala Force & Styles) return to hardcore, the Boss and just who is Scott Styles?

Find out all in Darren's HappyHardcore.com interview.
Click to discuss this resource
2004/04/27
Bang are lost in space on cloudy day
Author: silver

Shop.HappyHardcore.com has exclusive limited promo of the new track from Bang! - Lost in space as well as the new 2004 remix of the Bang! classic Cloudy Days all on the same piece of wax! We only have 100 vinyl copies as promo before the full release so get your click on.

Audio (MP3) - Order now!
A: Bang! - Lost in Space
B: Bang! - Cloudy Days
Click to discuss this resource
2004/04/26
Sweet sweet candy
New live hardcore from the underground of Osaka, LPU Records release a new CD, third in the series, called Candy RaveParty 3. Featuring the DJing talents of Kevin Energy and lyrics talents of MC Sharkey. The fully licensed CD which was recorded live in Osaka Japan late last year is only sold in Japan, with limited numbers exported. We have a link to Amazon Japan if you wish to pick it up. The tracklisting for Candy RaveParty 3 can be found here as well as the tracklist for Candy RaveParty 2 feat. DJ KengKeng (RIP) and the tracklist for the original Candy RaveParty feat. DJ Horn.

Missing your hardcore candy fix? These releases are sweet. You can order at these links: Candy RaveParty 3 (now on sale), Candy RaveParty 2 (released 2002), Candy RaveParty 1 (released 2001).


2004/04/23
Hardcore in the Dutch charts!
A new CD from Rotterdam records called "A Nightmare in Rotterdam - The Legend Returns" has reached no. 14 in the official Dutch CD compilation charts! This CD is a double pack CD from DJ's Neophyte and DJ Panic. It contains both new and classic gabba tracks. We also have the TV commercial (Windows Media Player required) currently airing in Dutch MTV & TMF stations. Track list can be found here.


2004/04/23
Rave n Beats invade Canada
Author: silver

Rave n Beat have invaded Canada in the form of Rave n Beats Canada, the new label out this month features the talents of d-minus a well respected hardcore DJ from Toronto Canada. If your not into the trancy hardcore and love the classic cheesy stuff your onto a winner with this release.

RBCA01
A: d-minus - Heaven on Earth
B: The Untouchablez - Knowledge & Wisdom
2004/04/22
HTID2 + The Best of Bonkers!
Bad news for hardcore till I die CD fans the CD from React "Hardcore till I die 2" has been delayed to September 2004 due to the fact the tracks are not in order just yet. We have also been told that the DJ's have changed to Hixxy + one other yet to be announced DJ.

The good news? Bonkers lives on! HappyHardcore.com has confirmed that there is life after Bonkers 12, in the form of The Best of Bonkers due to be released near the end of 2004. There was speculation that Bonkers 12 was to be the last in the series as that is how far the Bonkers DJ contract's were signed to. Bonkers 12 remains at the number 7 spot in the UK compilation charts this week, the highest ever for any React release!

With such good sales on Bonkers 12 it's pretty much a certainty that a Bonkers 13 released after The Best of Bonkers release would be a safe bet.

Bonkers 12 is a 4 disc CD release mixed by Hixxy, Sharkey, Scott Brown and Breeze & Styles released April 12th 2004. It can be ordered here now.
2004/04/22
Maximum Impact x 3
Maximum Impact Records after a short period of quietness have released information on their next upcoming tune, no audio as yet.

Maximum Impact 003
A: DJ Seduction - Cross the fader
B: DJ Seduction - Bust like this
2004/04/22
Interviews are back!
That's right... back by popular demand, well not really... but interviews are back... everyone loves interviews :)

HappyHardcore.com sits down with the young talent DJ / producer Fracus for a 2004 interview update.
2004/04/20
MWX006 on sale!
Author: silver

MasterWax's 6th release "Hardcore Hippies - Dreams" is on sale at Shop.HappyHardcore.com and all other good hardcore record stockiest. This release features is a massive vocal tune with an high energy trance riff that you all should instantly take a shining too. Judging by the reaction the test press' are getting this release is hot!

You can order direct here or click the label cover image below.

A: Hardcore Hippies - Dreams
AA: Hardcore Hippies - Dreams (DJ Chucky & DJ Angel Remix)


2004/04/20
HappyHardcore.com gets a hardcore M8
For those who don't already know, M8 Magazine is a well respected long-running UK dance music magazine distributed from the UK. Starting from the June 2004 issue M8 Magazine has devoted a full page to hardcore tune reviews! The new review page is in addition the "Browned off" page written by Scott Brown.

The new page will be proudly brought to you by none other than HappyHardcore.com with DJ Silver writing the record reviews. Excellent news for getting hardcore tune information to the masses! Even more reason to pickup M8 magazine, the June issue should be on sale May 21st 2004 we will have more information closer to the date!







M8 adds hardcore reviews!
2004/04/20
5 mins with DJ Silver
Want the inside story on DJ Silver, owner and operator of HappyHardcore.com and everything attached to it? IMOTV have done an online video interview with the man himself check it out at http://www.imotv.net
Click to discuss this resource
2004/04/19
Next Generation Album v.2
Next Generation have posted their tracklist for their next album v2. The highly popular volume 1 was released from Rumour Records UK, it is unclear at this time who will be releasing this CD or when it will be released, this is the only info we have at the moment.

CD 01
01 Ham - Hardcore 2004
02 Euphoria - Forbidden Fruit
03 Brisk & Ham - Crazy Love
04 Vagabond - Dreamskies
05 Ham - You Ready?
06 Eclipse - 24-7 - (Breeze & Styles Mix)
07 Frisky & Hujib - I'll Never Stop
08 Vagabond - True Awareness
09 Eclipse - B4 Tomorrow - (Ham Mix)
10 Euphoria - Future Is Now
11 Frisky & Hujib - Love Me Forever
12 Vagabond - Enter Heaven
13 Frisky & Hujib - Party Crasher
14 Brisk & Vagabond - The Time Has Come
15 Frisky and Hujib - You Better Run
16 Rampage & Revolution - Real God

CD 02
01 Brisk & Ham - Taste The Rainbow
02 Euphoria - Too Beautiful
03 Vagabond - Inorganic Sound
04 Brisk & Ham - Angel Eyes
05 Vagabond - Comin Closer
06 Brisk & Ham - To The Floor
07 Frisky & Hujib - Drop Da Bomb
08 Euphoria - Angel Falling
09 Brisk & Ham - Sounds Legit
10 Euphoria - Hardcore Overdose
11 Vagabond - Axis Mundi
12 Euphoria - Eternal Summer
13 Brisk & Ham - Blowin Up
14 Vagabond - Huggermugger
15 Stormtrooper - Clubshaker
16 Brisk & Ham - Run For Cover
17 Dreadhed - Chaos and Might
2004/04/14
Bonkers 12 in UK midweek compilation charts
Bonkers 12 has reached no. 8 in the UK midweek compilation charts - the highest position ever for any Bonkers release! The release could still hit a higher definitive chart position by the end week.

We had so many orders for this CD I could not believe it myself, hardcore's definitely alive and kickin!
2004/04/13
Totally Sweet... Forum!
Happyhardcore.com's own Totally Sweet Radio show is growing. Now having over 4000 listeners a month, we've made a brand new area in the forums. Check out all the past, present, and upcoming show info in there and don't forget to vote for the current "Label Wars" while you're at it.

TSR is well into its second year of airing here on HappyHardcore.com with hosts The M'asstodon Sound Crew (Virus, Gobstoppa, Tyco, Frenzy, Milo, END, and Scoots). You can tune in by simply placing your mouse cursor over "Radio" on the top menu bar and dragging down to the free Totally Sweet Radio stream.

You can get in touch with the show by e-mailing sweetradio@happyhardcore.com
2004/04/09
Bonkers 12 mania hits
As the release date for Bonkers 12 gets nearer and nearer we see everyone is itching to get their hands on a copy. HappyHardcore.com member DjTriquatra has come up with some excellent unofficial fan artwork for a fictional Bonkers 14. It was quite well done and we thought a news post would be in order.

Please note this CD artwork is not official, the information is not official and for quite certain is all information is incorrect.

Bonkers 12 is a 4 disc CD release mixed by Hixxy, Sharkey, Scott Brown and Breeze & Styles to be released April 12th 2004. It can be pre-ordered here now.


Click to discuss this resource
2004/04/07
Get em 'ere before anywhere else
Author: silver

As if you needed any reason to buy from Shop.HappyHardcore.com here is another, we have managed with our store partners to get for everyone Raver Baby 23 (Storm & Euphony feat. Danielle - Breathe / Disappear) before any other record store on the planet!

Not only have we got the new Raver Baby's new in this week we have the new Evolution Records EV072 Scott Brown - Flow / Boomstick (the track everyone can't seem to get enough of), RELOADED01, BLZ005, TKK002, TKK003, FD007, RB017, TNC004, NUNRG038 and NRG039!


2004/04/02
MasterWax 6 + 7 announced
Author: silver

HappyHardcore.com is proud to present the latest in the MasterWax series of releases. We have two storming tracks currently out on test press and in stores very shortly.

First off the block is the Hardcore Hippies - Dreams on MWX006. A massive vocal tune with an high energy trance riff that you all should instantly take a shining too. Japanese hardcore masters DJ Chucky & DJ Angel have done a tight mix for the flip that will rock the dance floor East or West.

A: Hardcore Hippies - Dreams
AA: Hardcore Hippies - Dreams (DJ Chucky & DJ Angel Remix)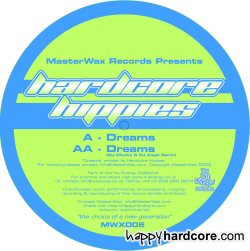 Hardcore Hippies - Dreams



Next up is the talented duo of DJ Elmo & Vapour with Learn to Fly & U Will B Mine on MWX007, we packed this released with not one but two fresh new tracks that are lighting up the dance floors.

A - DJ Elmo & Vapour - Learn to Fly
AA - DJ Elmo & Vapour - U Will B Mine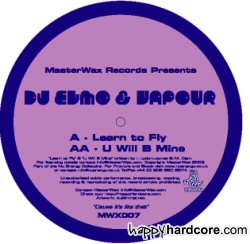 DJ Elmo & Vapour Learn to fly
Click to discuss this resource
2004/04/01
Bonkers 12 TV commercial
The "Bonkers 12 - The Dirty Dozen" UK TV commercial has arrived exclusive to HappyHardcore.com for your viewing pleasure. This will only been shown on UK televisions so a real treat to all the international members that would not regularly get to see it. Click the any of images below to display the broadband version.

Bonkers 12 is a 4 disc CD release mixed by Hixxy, Sharkey, Scott Brown and Breeze & Styles to be released April 12th 2004. It can be pre-ordered here now.

Video (Window Media 9):

2004/04/01
FBI audio now, release later
FBI Records have releases some audio on a upcoming track to be released on FBI Records.

Audio (Real Audio)
Impact & Smiley - Deep Down
2004/04/01
11,000 members!
HappyHardcore.com passed 11,000 members the other day, nearly 11,100 by the time we managed to get time to write this news post :)

Many thanks to all the donating members, store customers and long term members / supporters of HappyHardcore.com.
2004/04/01
Are you ready to be Reloaded?
Reloaded Records have sent out their latest and greatest release schedule for their upcoming tunes, looking quite solid from where I'm sitting. Reloaded's first release (Reloaded 001) will be in store this Friday!

Reloaded 004
Lisa Abbott - The One (Breeze & Styles Remix)
Lisa Abbott - Far & Away (Breeze & Styles Remix)

Reloaded 005
The Gladheadz - Drug Addicted Psycho (Scott Brown Remix)
The Gladheadz - Drug Addicted Psycho (DJ Frantic Remix)

Reloaded 006
Evil Angel - Today (Breeze & Styles Remix)
Evil Angel - Today (Dougal & Gammer Remix)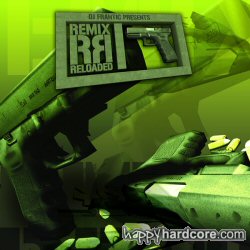 Reload... Get ready!
2004/04/01
HyperBeatz praise the music
HyperBeatz have sent across news and audio on their next release HB006, the A side is a fresh new track while the B side will be a remix of HyperBeatz's first release Jupiter that is a harder mix.

Audio (MP3):
HB006
A: Praise The Music
B: Jupiter







You praising the music?