NEWS
2004/09/29
Bonkers 13 artwork round 2
Leaked bonkers artwork flying all over the place, this artwork is hotter than a back street boys back stage pass. Below behold the updated Bonkers 13 artwork, we are not sure if this is 100% yet, we will keep you posted.

Bonkers 13 - Hardcore Horror Show can be pre-ordered NOW!.

Don't forget if you're a fan of Hixxy, Re-con, UFO and Dougal out this week from Resist is the new Hardcore til I die 2 CD.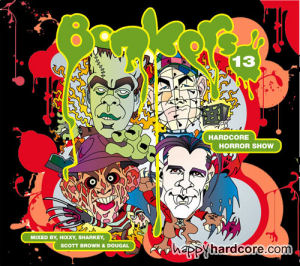 Bonkers 13 - Hardcore Horror Show updated - Click to pre-order
Click to discuss this resource
2004/09/29
Hardcore with Ballz!
A new hardcore label entitled simply Ballistic Bootlegs is set to release their first release in the next month or so. Both sides are vocal powerhouses that you may or may not have heard before somewhere else. For hardcore for ya ears!

BALLISTIC BOOTLEGS 001
Audio (Real Audio):
A: Anon - Calling Out
AA: Anon - Set You Free
Click to discuss this resource
2004/09/29
So very Hecttech!
Hecttech have more release offerings! This time around Scott Majestik lets loose the music for Hecttech's 33rd release. Should be in stores shortly.

H-TECH033
A: Scott Majestik - Loose The Music
AA: Scott Majestik - The Gathering
2004/09/29
EV TP OK
Good news for fans of Evolution Records, a new batch of Evolution Records releases are on their way to a hardcore store near you! The test presses (created as a test vinyl pressing before the vinyl pressing run) have been checked and are ready for release. Expect to see white promo in the shops and Shop.HappyHardcore.com within the next 3-4 weeks. These whites will also be extremely limited so catch them while you can!
2004/09/29
Hullaba-bye-bye
News from Toronto, Canada is that the famous and well respected (happy) hardcore party series Hullabaloo is coming to an end as of July 2005. Anabolic Frolic who has been running the Hullabaloo parties has left a nice parting message on the official Hullabaloo web site (copied to the forum link in this news post) and we can only speculate that Anabolic (who recently has started a new family) does not have the time to juggle both his hardcore passion and parental commitments and this is why the parties are coming to an end. HappyHardcore.com wish him all the best in his future endeavors as he has certainly opened a lot people to hardcore in North America.

Hullabaloo is arguable the largest and longest running hardcore parties series in North America.
Click to discuss this resource
2004/09/28
Bonkers 13 artwork leaks
The Bonkers 13 artwork has leaked from Resist to the internet, it would have been posted everywhere in a matter of hours so here it is first.

Please note this artwork is 95% complete there might and will be minor changes.

Bonkers 13 - Hardcore Horror Show can be pre-ordered NOW!.

Don't forget if you're a fan of Hixxy, Re-con, UFO and Dougal out yesterday from Resist is the new Hardcore til I die 2 CD.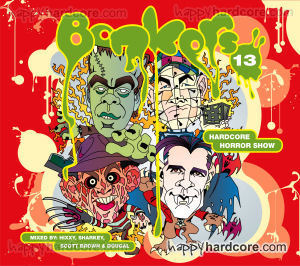 Bonkers 13 - Hardcore Horror Show 95% artwork- Click to pre-order
Click to discuss this resource
2004/09/28
Bonkers 13 info and pre-order!
Bonkers 13 info has leaked, the complete name of Bonkers 13 is "Bonkers 13 - Hardcore Horror Show". After HappyHardcore.com contacted Resist regarding the name Resist confirmed that Bonkers 13 is in fact a horror theme for the 13th release. The artwork we have be told is simular to the cartoon style used on Bonkers 12. The Bonkers 13 artwork is 95% completed and HappyHardcore.com will have both the final artwork and complete tracklists next week!

Bonkers 13 - Hardcore Horror Show can be pre-ordered NOW!

Also out yesterday from Resist is the new Hardcore til I die 2 CD
Click to discuss this resource
2004/09/28
The return of Infinity Recordings!
Author: silver

Infinity Recordings are back and taking it to a new level! News and information has been slowly leaking out from various sources about the come back and HappyHardcore.com is proud to break the news to everyone.

Infinity Recordings will be re-starting straight off from where it left, its catalogue number will start from 25 and the first two releases are already at the pressing plant as you read this! The new label is concentrating on mostly new material featuring all the best upcoming and existing hardcore artists but also as you already are thinking, Infinity will be releasing some fresh remixes of the classic's on Infinity from time to time. Infinity have also over hauled their logo and gone full color on the vinyl labels, not to shabby and the tunes are totally out of this world!

First off the blocks is The Outlaw and Summer Aurora, what can we say? These already have been cained at all the big events by Hixxy, Sy & Unknown, Brisk, Compulsion and more...

INFTY025
A: DeeJayBee & Compulsion - The Outlaw
AA: DeeJayBee - Summer Aurora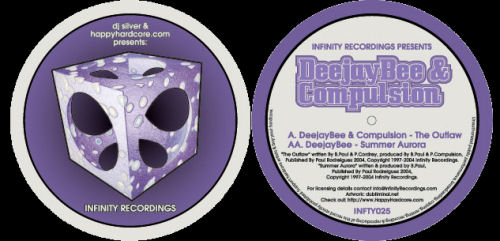 Infinity are back - no messing about!



Next we have a vocal powerhouse with Dual Love - both brand new mixes that have also been cained all over the UK. There are no words to describe the power of this anthem - click and listen for yourself. The DeeJayBee mix of Dual Love was also featured on the Hardcore Tsunami 2 CD (order).

Audio (Windows Media Player)
INFTY026
A: Gavin G & Dan Rolla - Dual Love (DeeJayBee Remix)
AA: Gavin G & Dan Rolla - Dual Love (2004 Mix)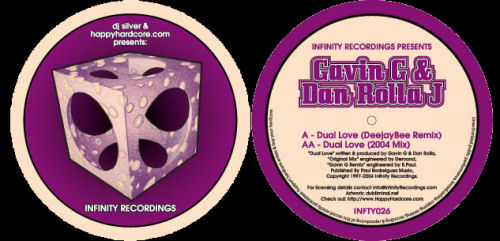 Gavin G & Dan Rolla - Dual Love!!



Both releases are due mid to late October 2004 and will be on sale at all good hardcore stockiests and of course first at Shop.HappyHardcore.com.
2004/09/28
DJ Silver
DJ Silver owner and operator of HappyHardcore.com / MasterWax Records / Infinity Recordings as well as the featured DJ on the Hardcore Tsunami series (we really don't have to tell you this do we...) will be in Sydney Australia as the special secret international DJ playing the Liberation 8 event on October 16th 2004!

If your around, in town or a local be sure to get your butt on down to this massive event for an unforgettable night!
2004/09/28
Where does Amazon get its hardcore info from?
Where does Amazon get its hardcore info from? From HappyHardcore.com and we have proof that one of the biggest retailers in the world gets (without our permission) their hardcore information directly from us. Check Amazon's Hardcore till I die 2 page - you will notice that the CD jacket graphic (click for larger image) still has our watermark embedded into the graphic. The tracklist exactly matches our hardcore till I die 2 tracklist page format.

Everything on HappyHardcore.com is of course copyright to HappyHardcore.com and can not be re-produced without our direct permission, but interesting to see where the big guys "get" their info from.

Big up's to all the people that reported this to us.
Click to discuss this resource
2004/09/28
Can we have some order please!
Higher Order been busy and passed on some new release information to us for all the HappyHardcore.com punters.
Higher Order 4 (HO004) has been sent off to press and all the artwork and details are ready. The release date for this tune will be October 18th 2004 so mark the date in your diaries. Release info is as follows:

HO004
A: Scott Majestik - Intent to kill
AA: Martin Space - Get busy

Coming soon February 2005

HO005
A: Scott Majestik - Wahey
AA: Scott Majestik - The Devil

Future releases are:

HO006
A: Scott Majestik - Meltdown
AA: Tha Outsidaz - Eve of the war (Remix)

HO007
A: Scott Majestik - Good to be God
AA: Scott Majestik - Unleash hell
2004/09/27
Warp 5.6 - engage!
The warped science crew have sent over HappyHardcore.com the label data and exclusive new logo for warped science 5 and 6 because they love you all so much. News on the release is that Warped 5 is going to be on purple marbled vinyl and the limited Warped 6 is a limited edition 500 copies only on a 10" dark blue marbled vinyl (sexy!).

Both release should be out within a month and will be available first at Shop.HappyHardcore.com.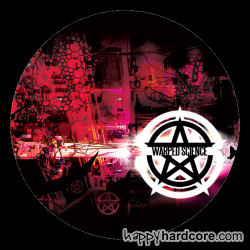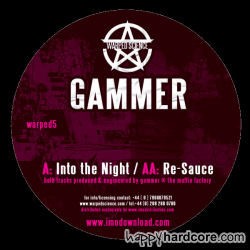 Gammer re-sauces into the night...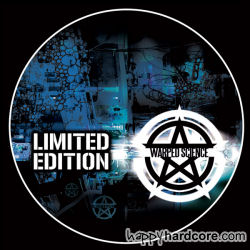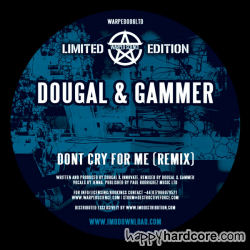 Warped Science limited 6!
2004/09/27
A new theory
A new hardcore label is set to hit center stage in the upcoming months named Lethal Theory and is headed up by Joey Riot and the first release is looking very promising. The release with both a Sy & Unknown remix and a Paulos & Re-con remix (from the Upcoming label Monkey Business) makes for some good tunage. We don't have a release date yet but we can only guess in the next few months. The first release looks like this at the moment:

TLM - Saving Grace (Sy & Unknown remix)
TLM - Saving Grace (Paulo & Re-con remix)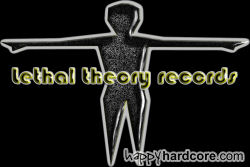 Lethal Theory
2004/09/27
Just another remix :)
HappyHardcore.com has been doing some digging around the place and spotted a new release of the classic happy hardcore anthem Have it all by Triple J (Jenka, Jimmy J, Justin Time). Here is the release information and audio for you to check out if your a JAL / Triple J fan.

Audio (MP3):
YCUK017
A: ALX meets Triple J - Have it all
B: ALX meets Triple J - Insanity
2004/09/27
Heartbeatz, Flip n Fill and all around the world
As reported a few months ago on HappyHardcore.com the next big hardcore tune by Styles & Breeze to be released on AATW (and to the mass commercial market) is the hardcore anthem HeartBeatz. AATW have released information saying that the promo will be out in a few weeks!

A bit of trivia for everyone is that the vocals on the release come from singer Karen Danzig who as well as working with Styles & Breeze has also been in the studio with Flip & Fill.

AATW have also released the statement (typo and grammar corrected):
Styles & Breeze are also working on their debut album and you can expect to hear much more of the Styles & Breeze song-writing team in the future which has provided top 5 singles for Ultrabeat as well as pending hits for Flip & Fill, Kelly Llorenna and of course their own releases.

Keyword here "pending hits" - Are Flip n Fill to cover more hardcore tunes or release brand new songs written by Styles & Breeze for Flip n Fill and Kelly Llorenna? Time will tell, we will keep you posted.
2004/09/22
MasterWax release news 8 + 9!
Author: silver

MasterWax Records are proud to present the next two releases in the series. These babies have already seen test presses and are in final pressing at the moment so you can expect them both early next month! We have also done FULL COLOR labels this time around, we think the new designs totally rock!

MasterWax 8 (MWX008) is a very special release, it marks DJ Fade's last hardcore track before going into retirement. Guiding light is a absolutely outstanding track that and has already seen two CD compilation releases before the vinyl release (Hardcore Tsunami 2 (order) / Speed Trance - Type 4 (order)). We packed this release with three solid mixes DeeJayBee & Overflow of Infinity Recordings and Essential Platinum, DJ Weaver of RaverBaby and of course the original track, each with their own flavor but all sure banging anthems! Don't take my word for it, let the audio do the talking.

MWX008
A1: Impact & Fade feat. Kelly - Guiding Light (Deejaybee & Overflow Remix)
AA1: Impact & Fade feat. Kelly - Guiding Light (Weaver Remix)
AA2: Impact & Fade feat. Kelly - Guiding Light (Original mix)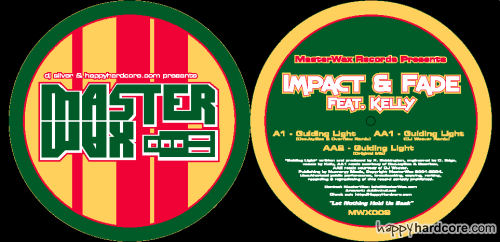 Impact & Fade feat. Kelly - Guiding Light



For MasterWax 9 we picked up with new school meets oldskool, Gammer needs no introduction and is one of the youngest and most talented producers in the hardcore scene, he is responsible for nearly every release on Essential Platinum one way or another and there seems no be nothing stopping him. Gammer and Mickey Skeedal team up for two banging tracks In Darkness which was featured on the Hardcord Tsunami 2 (order) compilation and for the B side Hardcore Revolution another juicy hardcore tune. Again let the audio do the talking.

MWX009
A: Gammer & Mickey Skeedale - Into Darkness
B: Gammer & Mickey Skeedale - Hardcore Revolution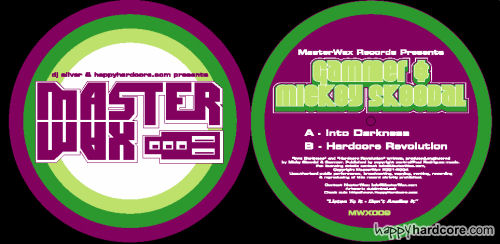 Gammer & Mickey Skeedale - Into Darkness / Hardcore Revolution
2004/09/22
A New Zealand hardcore prophecy!
Hardcore is truely a global phenomenon, the Prophecy Records crew headed up out of New Zealand no less has released audio and details on your upcoming release marking the labels second release! "The U.K. vs N.X. EP" is due in store the start of October 2004, Shop.HappyHardcore.com and it's partners have the title in stock first.

Audio (MP3):
The U.K. vs N.X. EP (FPR 002)
Side A.
Stepback - Kam & Damnation's Original Mix
Stepback - Kaine's Remix

Side B.
Real High - Kaine's Original Mix
Real High - Kam & Damnation's Remix

The above clips are presented in a cut down format in mp3 (with gaps inserted in the middle).
2004/09/22
Digital be be Beatz
The Digital Beatz crew have sent their latest creation of to the pressing plant to be turning into 12 inches of black round things commonly called vinyl :) Expect the release in store in 4-5 weeks if there are no problems. HappyHardcore.com has the release information for and audio for DIGI008 for everyone to check out.

Upcoming releases on the Digital Beatz label include:
Sonic - Inside The Ride
Sonic - Inisde The Ride (Tazz & Shanty Digital Beatz Remix)
Tazz & Concept - Planet Of Dreamz (Kevin Energy Remix)
Sonic - Doctor Robotnik
Sonic - Experienced Breakage
Tazz & Loopy - Life Support (Tha Outsidaz Remix)
Scott Potential - Tha Shit
Sonic - Therapy
Sonic - Bat Country (Tazz Digital Beatz Remix)
Menace 2 Society - Cougars Bass (Blizzard Boys Remix)
DMAC - The Renaissance

DIGI008 12"
Audio (MP3):
A: Tazz - In Syndication
B: Sonic Bat Country
Click to discuss this resource
2004/09/21
The Future Vibe
Rumour Records have the hardcore CD's flying thick and fast, a new double CD mixed by the DJing talents of DJ Seduction and Marc Smith called FutureVibe is to be released October 11th 2004. HappyHardcore.com has the graphics and tracklist for everyone to checkout.

The CD is also available for pre-order now!


2004/09/21
DJ Storm & Euphany go downunderground
A new hardcore CD out of Australia from record label Downunderground called "Happy Hardcore vol. 3" has hit Australian hardcore stores over the past weekend. The release is a double disc release with the second disc being a DVD with rave visuals. The CD's are mixed by DJ's Storm & Euphany. HappyHardcore.com has the complete tracklisting and artwork for everyone to checkout. Downunderground have also been at the center of a few legal issues with regards to non-payment to artists and labels, we have checked into this before posting this important and everyone has been sorted out correctly.

Note: This CD is only released in Australia, sorry international people we will attempt to stock some but we can't make any promises.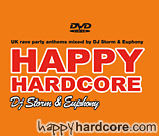 HappyHardcore down under ground
2004/09/15
Who's looking for new raver baby and evolution releases?
EVERYONE! is the answer. A reliable source close to HappyHardcore.com and Amato distribution has told us that Amato should have for general distribution new Raver Baby and Evolution Records vinyl mid to end of October 2004!
2004/09/14
HappyHardcore.com turns 5 years old
It was a warm afternoon in September 1999 that DJ Silver was searching around for a good website address, entering in HappyHardcore.com he noticed nothing was there..... the rest is history. HappyHardcore.com has gone from *very* simple beginnings to the largest hardcore dance website in the world though the amazing strength of hardcore music and its followers. This month HappyHardcore.com turns 5 years old as well as HappyHardcore.com radio which is the longest running hardcore radio station in the world (we have not stopped broadcasting hardcore for 5 years!)

Happy birthday HappyHardcore.com your 5 years old!
Click to discuss this resource
2004/09/14
Not enough hardcore?
Brisk from Next Generation Records has gone on the record to say that after the first initial releases of Next Generation Records from Amato Distribution on September 27th that the Next Generation crew will be releasing two new hardcore tunes a week until the end of the year! Talk about hardcore comebacks!
2004/09/14
Monkey Business
A new hardcore label run out of Liverpool UK is about to hit the scene. Heading up the new label called Monkey Business is Paulos from 3Beat records (the store) in Liverpool and Mike Di Scala (Re-Con / UltraBeat). Wicked news!
HappyHardcore.com does not have a release date yet but the first release look like this:

A: Re-Con - Finally
AA: Re-Con - The Sun
2004/09/13
Release date for Amato hardcore
Since the departure of Alphamagic (the ex-largest hardcore distributor in the world) hardcore releases have been a little thin as of late. Left over from this departure is Amato and IMO Distribution as the two major distributors for UK hardcore in the world. IMO Distribution have been in the distribution game for a while and nothing has changed there, Amato the new gun to hardcore distribution has stepped up and taken onboard many hardcore labels.

News today is that Amato have set release dates for their first major round of hardcore distribution to stores. This date will be September 27th 2004, please note this is a date that stores can buy these vinyl's, not the actual date they go on sale, but it shouldn't be to much difference we think. Here is a list of the first releases:

Nu Energy (NUNRG041)
Relentless Vinyl (RLNT007)
Quosh Records (QSHLTD005)
Next Generation (NG032)
Future Dance (FD009)

This is just a list of the first releases on sale not a complete list of hardcore labels to be available at Amato.
2004/09/13
Get United
A new day and new hardcore label, this time around Vinyl United Records. The release is due in store shortly. No audio for the moment, but here is the release information for the first release.

A: T.C - Love In Motion
AA: T.C & Delight - So Much MORE
2004/09/13
HappyHardcore.com radio goes top 40!
HappyHardcore.com radio over the weekend broke into the top 40 streaming shoutcast internet radio stations in the world at position 38!. This is massive and amazing at the same time, the number of internet radio stations sits somewhere around 10,000 and to make it even in the top 100 is a good ranking let alone position 38.

Massive respect to all the global hardcore listeners of the station that have shown to the rest of the dance community just what hardcore is about and how much global support the music has!
2004/09/13
Exposure 2004 over
The 15 hour free online Exposure festival 2004 wrapped up over the weekend with great success and funfair. Our servers handled the load nicely and we experienced no problems during the entire event. The stats for all the rooms has not come in yet, but we will keep everyone posted. Thanks to everyone that tuned it to the great exclusive DJ sets and see you all next year :)







Exposure Festival 2004 over and out...
Click to discuss this resource
2004/09/13
Executives only
Australia has a massive hardcore party scene, arguably biggest in the world but severely lacks hardcore producers. A few Australians have made their marks on the hardcore scene, DJ Daydream being one of them. In the past few years Australian producers have been coming back with a vengeance, leader of the march would have to be DJ Weaver with several releases on Raver Baby and the bonkers CD series.

Good new this week is that a new Australian based hardcore label is set to launch shortly called Executive Records featuring a ton of new Australian hardcore talent. We have label logo artwork and audio for everyone to check out.

EXEC001
A: Haze & the Acolyte - Executive
AA: Haze - I Get a Rush

- EXEC002
A: The Acolyte feat. Amy - Lost Without You
AA: The Acolyte - Make You Feel

EXEC003
A: Haze and Antix - I Need You
AA: ElectriX - Genie (Antix & ElectriX mix)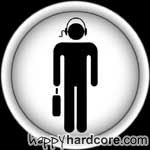 Don't walk- I mean... Executive Records! :)
Click to discuss this resource
2004/09/10
Exposure 2004 - live on HappyHardcore.com Radio
We have been receiving alot of questions on how to listen to the Exposure Festival 2004. It is very very simple all you will need to do is tune into HappyHardcore.com Radio at the times listed in the news post below this and you will be all set! There is no actual live / physical location for the event, it is a 100% online, so the people asking me for tickets you can't buy one because it is 100% FREE and 100% on HappyHardcore.com radio!







Exposure Festival 2004
2004/09/09
Exposure 2004 set times and changes
As the exposure festival 2004 draws nearer and we are in final 24 hours before the event starts. This year hardcore is featuring for the first time with HappyHardcore.com organizing the hardcore arena. As you can understand this festival of this size has been on the planning table for the last six month and all DJ bookings were done 3 months ago. Since that time alot of things have happened in the hardcore scene with the two major ones being React and Alphamagic both going bankrupt. This has created massive problems for the labels and artists as all the money owed to them has now gone forever. Because of this a majority of major artists and labels are now under contractual agreements that prohibit them playing new unreleased material on media outlets that might be featured on future albums (to be released - like Bonkers 13 or HTID 2 for example). This only became know to everyone involved 3 days ago and since then we have frantically put together a new DJ lineup for the exposure festival that we think you will like (DJ's and set times listed below).

The online event starts Friday September 10, 2004 (tomorrow) at the following times - United Kingdom 3pm, USA East Coast 10am, USA West Coast 7am, Australia East Coast 12am, Australia West Coast 10pm and Japan 11pm.

The set times are as follows (time @ GMT)
1500 - 1600 : Comet and Infinitron
1600 - 1730 : DJ Impact
1730 - 1930 : Uraken
1930 - 2030 : Ruboy
2030 - 2130 : CLSM
2130 - 2230 : Brisk & Ham
2230 - 2300 : Sy & Unknown
2300 - 2340 : DeeJayBee and Overflow
2340 - 0040 : DJ Weaver
0040 - 0340 : DJ Silver
0340 - 0510 : Phosphor and justrich
0510 - 0610 : Cloudskipper and No left turn
0610 - 0740 : Ruffage

You should be able to work out based on the start time in your area who's playing when in your part of the world.







Exposure Festival 2004
Click to discuss this resource
2004/09/08
HTID 2 CD artwork + Bonkers 13 info
The artwork and complete tracklisting has landed for the Hardcore til I die 2, you saw it here first. News on the release is that the DJ's mixing it up over 2 CD's are Hixxy, Re-con, Dougal and UFO, what's more interesting about this release is that each disc contains 4 unmixed and unreleased tracks (the last 4 tracks of each disc) for CD-J DJ's! The release date for the Hardcore til I die 2 CD is September 27th 2004.

You can pre-order hardcore til I die 2 CD now for only 7.99 pounds!

News on Bonkers 13 is that artwork is getting a re-vamp and a theme redesign, we were hoping that we would also have that artwork today, but unfortunately we will have to wait 3 weeks for that one. The Bonkers 13 artwork we are told will be cartoony again ala Bonkers 12 artwork. The release date of Bonkers 13 will either be October 25th 2004 or November 1st 2004 (which might or might not hint to the theme of the release).


Click to discuss this resource
2004/09/07
Legal downloads arrive on the hardcore scene
Last week marks the start of arguably the biggest new hardcore legal download site on the net at IMODownload.com. Many new labels have signed up to the store including Remix Reloaded, Impact, Warped Science and more. In discussions with the IMODownload crew they have reported that after a few teething problems everything is in full swing and tracks are flying out the door or in this case down the internet pipe!

IMODownload are first to pioneer DRM technology onto the hardcore tracks enabling a more secure way of getting the tracks your looking for and offering the artists and labels some protection from thief sharing.

Other new legal download sites are of course Evolution Records download site, which this week announced 6 new Evolution Records tracks to legally purchase and download.

Quosh records don't have a download option per say but you can buy all their tracks on CD as singles with their on create your own compilation CD section.

And last but not least the Hyperbeatz crew have their own legal download offering all the new and old tunes.

How will this new technology shape the hardcore scene? Only time will tell, anything that promotes hardcore music HappyHardcore.com welcomes. Piracy and P2P networks are a major problem for hardcore as it's a small genre and the difference of 100 units of sales can often make the difference between an artist / label being able to continue producing hardcore or not. These download services are there to service the needs of customers that want to get hard to find hardcore tunes and new tunes which has been lacking in the past. Alot of people have wanted services like this to start up but it's upto you the customers to make sure people don't abuse these systems.
2004/09/07
Interview: Sunrize
HappyHardcore.com moderator Milo takes five with US hardcore DJ / Producer Sunrize. Sunrize is the DJ that is to be featured on the "This is noize 2" CD album due to be released November 2004. We find out all the info in Sunrize's HappyHardcore.com interview.
2004/09/06
Tilted slide out audio and new release
The guys from Tilted recordings have released news and audio on their upcoming releases. Check it out.

Audio (Real Audio):
TILTED003 - Due late Oct. 2004
MalfunKtion - Promised Land
MalfunKtion - Free Your Mind

TILTED004 - Due Feb. 2005
Void, Lusive & Hiro - Technique Acquired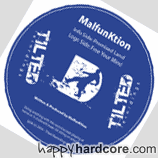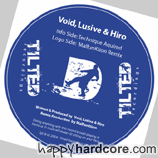 Tilted 3 + 4 artwork
Click to discuss this resource
2004/09/06
Bonkers 13 DJ's + HTID2 CD
Seems no one can keep their month shut when it comes to secrets, news leaked over the weekend on the 4th DJ to be mixing it up on the 4th disc of the new Bonkers 13. That DJ is DJ Dougal from Essential Platinum making the complete round up for Bonkers 13 as Hixxy, Sharkey, Scott Brown and Dougal. We will have exclusive artwork and all the info tomorrow on the release.

We also have all the info on the Hardcore Till I Die 2 CD (Pre-order) from Resist, when we are given the green light to release that info you will see it here first.
2004/09/06
AATW confirms Heartbeatz release
All around the world (AATW), the record label responsible for the commercial release of Styles & Breeze - You're Shining has finally announced the next commercial release from Styles & Breeze. Just as reported on HappyHardcore.com a few weeks back it is of course the hardcore anthem HeartBeatz. No word on a release date yet - stay tuned.