NEWS
2003/05/28
HappyHardcore.com acquires Infinity Recordings
HappyHardcore.com has acquired Infinity Recordings and its entire back catalogue plus previously unreleased tracks licensed under the Infinity brand name from previous owner / operator and international producer "Mark Breeze" earlier this month.

The deal involves all 24 previous releases under Infinity Recordings and several unreleased tracks; brand names including the sub label SAW as well as logos, websites and existing contracts and copyrights. All exists artists that have featured on Infinity Recordings have been notified and all are excited for the future expanded possibilities with HappyHardcore.com.

Infinity Recordings back catalogue can be viewed by clicking here.

Official press release can be read here.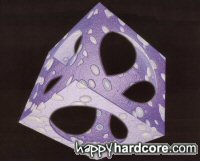 Infinity Recordings join the HappyHardcore.com family
Click to discuss this resource
2003/05/28
Counting the babies
Two more RaverBaby releases quietly shipped today and can be picked up from your favorite stores.

BABY014: Dougal & Gammer - Fires in the Sky / Beat the System
BABY015: Styles & Breeze - Sonic / Total XTC
Click to discuss this resource
2003/05/25
HappyHardcore.com and Rumour Records are giving the chance for 5 lucky people to win the brand new Hardcore - the second coming double CD mixed by DJ's Scott Brown and Neophyte. Competition closes June 1st 2003 so get your click on and click the CD image below to enter now!

2003/05/25
Evolution's newest
Evolution Records today updated there release schedules with their latest tunes.

EV67: Scott Brown - Ice Cold 2 / Pilgrim (Kevin Energy Remix)
EV68: Scott Brown - Definition of a Badboy Remix / Hardcore Hustler Remix

thanks to member comet for the news.
2003/05/24
Pitchin' some more up
Pitched up Records have releases information on their latest tuneage:

PUR004:
A: Eor - The Hard Shit
B1: Code Red - Wildside
B2: AC Slater - Rave Music

PUR005:
A: AC Slater - Heaven & Hell
B1: AC Slater & Sunrize - Shout Out
B2: Daywalker & AC Slater - Untitled
Click to discuss this resource
2003/05/19
Windows Media and i-tunes
HappyHardcore.com radio has been listed in the exclusive ranks of Microsoft's Windows Media radio tuner (under Dance) and well Apple's own i-tunes! As HappyHardcore.com Radio keeps getting bigger and more popular so does the hardcore sound!

Get ready the tsunami is coming...
2003/05/14
Hardcore stage WEMF 2003 - HappyHardcore.com
WEMF is Canada's largest 3 day outdoor electronic festival. This year the hardcore stage is in association with none other than your favorite site HappyHardcore.com! Just as HappyHardcore.com is your central point for all the hardcore news it will also be for the hardcore WEMF 2003 stage. In previous years the Hullabaloo crew has produced this stage and HappyHardcore.com is honored to pickup where they left of with their legacy.

DJ Silver owner and operator of HappyHardcore.com & MasterWax Records will also be DJing WEMF 2003 as well as other internationals Hixxy, Fade, Sharkey, Lenny Dee plus a ton of Canadian DJ talent including the Totally Sweet Radio crew! . HappyHardcore.com is truly an international site so if you can mange to get to Canada for the weekend of July 25th to 27th 2003 there is a party set to explode.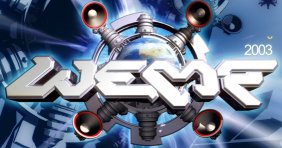 WEMF 2003 Hardcore stage presented by HappyHardcore.com
Click to discuss this resource
2003/05/14
Win a copy of The Best of Ultra-Sonic CD
HappyHardcore.com and Rumour Records are giving the chance for 5 lucky people to win the brand new The Best of Ultra-Sonic double CD. Click the CD image below to enter now!

2003/05/13
Dune can't stop raving
Dune the hardcore group that gave hardcore such classics as I can't stop raving and Million Miles from Home are back producing again. HappyHardcore.com has been in contact with Dune and they have told us they are working on a new album to be released soon. Dune would not release any more info on what they are exactly working on but great to hear they are back!

Click to discuss this resource
2003/05/12
Bonkers X TV Commercial exclusive
HappyHardcore.com has obtained a copy of the Bonkers X TV commerical before release - Exclusive to HappyHardcore.com for your viewing pleasure. Click the image to display the broadband version or the link below for the 56k version.

Click here to order your copy now.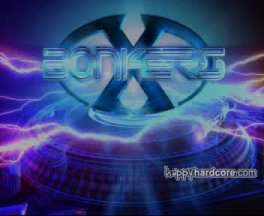 Bonkers in the house comeon!
BroadBand version [100k]
Click to discuss this resource
2003/05/08
Hardcore's Evolution (Records)
Hardcore has evolved, and Scott Brown is leading the pack, we have just received the album information and cover image from evolution
Click here for track listing.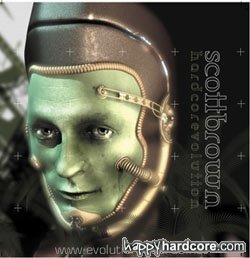 Hardcorevolution CD artwork
2003/05/08
Bonkers T-shirts
React have created some promotional limited Bonkers X T-shirts, check them out and if you like them click the image to order.

2003/05/05
Quoshing around
Quosh Records let loose info on their latest vinyl treats:

QSH 048 (Release date May 2003)
Insight - Only Your Love (Mixes)

QSH 049 (Release date June 2003)
The Vampire - The Old Skool Update EP (Total XTC)

QSHLTD 003 (Release date May 2003)
Sy & Unknown - Bring Me Round To Love (VIP Mix) / Scott Brown's Evolution Remix

Thanks to Comet for the update.