NEWS
2004/03/26
Tom Wilson RIP
Unfortunately earlier today the much loved and respected DJ, Tom Wilson from Scotland and Radioforth (forthone), ReZerection, Stepping Out fame, sadly and very suddenly passed away today, our heart felt warmth goes out to his family and I'm sure you will all join in with messages of support for a true legend and pioneer of the Scottish dance scene.

Tom Wilson has an album coming out on Rumour Records very shortly, it is unclear at the moment if this will be released due to this sad news, but very fitting as a tribute album if it did get released.

Background on Tom Wilson:
Tom Wilson has been at the forefront of the Scottish dance scene for more years than he cares to remember! His legendary dance show on Forth FM ran since 1985. Because the show was only broadcast to East and Central Scotland, dance fans would go to extraordinary lengths to hear it. It's a fact that 5 guys from Newcastle would all pile into an old Transit van every Saturday and drive up to an area in Scotland where they could hear it! Tapes of the show were sent all over the place, that's why you often heard Tom doing requests for listeners in Canada, Australia or Hong Kong! This was before the Internet sent radio signals across the globe. Tom is also a music producer and has released around 10 singles including the club classic 'Technocat' which gave him a top 40 hit in the UK and charted in several European countries.

Releases and remixes from Tom Wilson:
Techno Cat, 12" (Not On Label)
Techno Cat, 12" (Steppin' Out Records)
Techno Cat, CD5" (FLEX Records (DK))
Techno Cat, 12" (ZYX Music)
Techno Cat, CD5" (ZYX Music)
Techno Cat (Remixes), 12" (ZYX Music)
Let Your Body Go, 12" (Clubscene Records)
Let Your Body Go, CD5" (Clubscene Records)
Technocat, CD5" (Pukka)
Technocat, 12" (Pukka)
Andiamo, 12" (Clubscene Records)
Techno Cat (Remixes), CD5" (ZYX Music)
Let Your Body Go, CD5" (ZYX Music)
Tom Wilson Presents ... Tonz Of Tekno, 2xCD (Death Becomes Me)
Playhard - Re(Act 1), CD (React)
Technocat 2000, 12" (Bass City Recordings)
Technocat 2000, 12" (Bass City Recordings)
Bouncin' Back, CD (Rumour Records)
Techno Cat 3002, 12" (Phobos Recordings)
Techno Cat 3002, CD5" (ZYX Music)
Techno Cat, 12" (Vendetta Records (Spain))

Remixes:

Back In The U.K. (Tom Wilson Remix) on Back In The UK (The Remixes), 12" (Club Tools)
U Found Out (Tom Wilson Remix) on U Found Out, 12" (Tidy Trax)
X-Files (Tom Wilson Dyme Mix) on X-Files, CD5" (ZYX Music)
U Found Out (Tom Wilson Remix) on U Found Out, 12" (Control Records)
Back In The UK (Tom Wilson Remix) on M8 Presents: European Techno Heaven Vol. 2, CD (Jumpin' & Pumpin')
Back In The UK (Tom Wilson Remix) on M8 Presents European Techno Heaven Volume 2, 2x12" (Jumpin' & Pumpin')
U Found Out (Tom Wilson Mix) on U Found Out (Remixes), 2x12" (Tidy Trax)
My Generation (Tom Wilson Russian Rollette Mix) on My Generation, 12" (Shoop!)
Get Into Love (Tom Wilson Remix) on Get Into Love, CD5" (EastWest Records UK)
X-Files (Tom Wilson Dyme Mix) on X-Files, 12" (ZYX Music)
Turn Up The Power (Liberation Remix) on Turn Up The Power, CD5" (CNR Music)
Turn Up The Power (Liberation Mix) on Turn Up The Power, 12" (All Around The World)
Dream (Tom Wilson Mix) on Dream, 12" (Steppin' Out Records)
Set Me Free (Liberation Mix) on Steppin' Out Records The Album 2, 2x12" (Steppin' Out Records)







Tom Wilson RIP
Click to discuss this resource
2004/03/25
Pre-order Battle of the DJ's - Match 2
As reported late last week HappyHardcore.com as an exclusive pre-order on the new Battle of the DJ's - Match 2 from Beats 24/7. HappyHardcore.com has a pre-order price of only 7.50 UK pounds + shipping for the CD and 6.50 UK pounds + shipping for the vinyl, with a limited amount autographed by the RSR crew and Force & Styles!

This offer is good until the 31st of March 2004, so click the CD image logo below to pre-order now!


Click to discuss this resource
2004/03/25
Who let the camels out?
The next two releases for Camel Records have been announced and we have the low down on these beasts with audio. Both releases are more on the freeformy tip, both have been sent off for mastering with CAM005 available in a couple of weeks with CAM006 following shortly after. Both releases will be sporting the new full color camel house sleeves.

Audio (MP3):
CAM005
A: Nemes & Blender - Without Fear
B1: Blender & Fantazia - Oh My God!
B2: Oli G - Jump To This

CAM006
A: Alek Szahala - Caballo
B1: Tazz - Whore House
B2: Tazz - Whore House (2004 Remix)
Click to discuss this resource
2004/03/24
Bonkers 12 tracklist and inside CD cover art
HappyHardcore.com has the goods on the Bonkers 12 tracklist, as well as some of the CD sleeve artwork. After a short delay from React on releasing the information keeping everyone itching for the information HappyHardcore.com has it first.

Judging by the CD artwork it's official that Hixxy, Sharkey, Scott Brown and Breeze & Styles are totally Bonkers! - It's worth the buy just for that photo!

Bonkers 12 is a 4 disc CD release mixed by Hixxy, Sharkey, Scott Brown and Breeze & Styles to be released April 12th 2004. It can be pre-ordered here now.


Click to discuss this resource
2004/03/24
HappyHardcore.com Radio back in full swing
For the past few days saw several problems with our free public 96k MP3 stream, basically we had to rebuild the machine because it was getting hammered (it's our most popular stream), it's back up again with it's buffer free goodness better than ever.

Tune in to any of our radio streams for all the hardcore music you could ever want.... warning HappyHardcore.com radio is highly addictive :)
2004/03/23
That's slightly tilted no?
A new label called Tilted Recordings have their first release ready to roll plus the Titled crew have let an audio preview out for you to listen to. The release will be on 12" vinyl and a limited number of cd's in the next couple of months.

Audio (Real Audio):
A: Caine & Kevin Thompson - Eve of Destruction
B: Caine & Kevin Thompson - Dirty Bitch
Click to discuss this resource
2004/03/22
DV8 zero zero two
Author: silver

After a short break DV8 records are back with another release from producer Soundscape. In stores now.

A: Soundscape - Dark Shadows
B1: Soundscape - Rezurrection
B2: Soundscape - Dark Shadows (Impact's rezurrected rmx)


2004/03/22
FBI are o-five
FBI Records have released audio for their forthcoming release FBI005 as well as a TBA track, check out the audio below:

Audio (Real Audio):
FBI 005
A: Impact & Elmo Feat Sophie - Lost Without You
AA: Impact - Will I

FBI TBA
Impact & Digital Anarchy - Calling Out
Click to discuss this resource
2004/03/19
More babies due soon
Got Delays? RaverBaby seems to have... HappyHardcore.com has some updated information regarding upcoming RB releases. This information is 100% correct according to the distributor AlphaMagic.

BABY21 - Released 26th March 2004
A: UFO - New Years Day
AA: UFO - Hardcore

BABY22 - Released 2nd April 2004
A: Force & Styles - Follow Me
AA1: Force & Styles - Follow Me (Styles & Breeze Remix)
AA2: Force & Styles - Follow Me (UFO Remix)

Both titles will be available at Shop.HappyHardcore.com and don't forget BABY025 (Darren Styles Back 2 The Old Skool / Takin Me Higher) and BABY026 (Breeze & Styles - Heartbeat / Electric) plus new PLUS12, CLONED002, DV8002, QUOSH053 and EV071 just to name a few are all in stock now!
2004/03/17
Revised Bonkers 12 artwork exclusive
React have decided to touch up the artwork for Bonkers 12 and have sent HappyHardcore.com the "definitive" (direct quote) final CD cover artwork.

Bonkers 12 is a 4 disc CD release mixed by Hixxy, Sharkey, Scott Brown and Breeze & Styles to be released April 12th 2004. It can be pre-ordered here now.


2004/03/17
Battle of the DJ's - Match 2
The Battle of the DJ's CD series hits backs with Match 2 this time featuring RSR (Ramos, Supreme, Sunset Regime) and Force & Styles. Brought to you from Beat-24/7 this release is a double CD and a vinyl release, each contain different track lists of course but both worth checking out for some classic and previously unreleased tuneage.
HappyHardcore.com has both tracklists for the CD and the vinyl release first for everyone to checkout.

The CD retails for 9.99 UK pounds and can be pre-ordered from Amazon.co.uk here. BUT starting early next week we have sorted something special for everyone, we have a very limited edition exclusive pre-order from HappyHardcore.com for only 7.50 UK pounds plus shipping, you can order the vinyl or the CD with either being autographed by Force & Styles and the RSR crew!. It will be first in first served for the pre-orders and will we ONLY be accepting payments from PayPal.

The battle is on again on this double CD and vinyl release both due in stores 29th of April 2004.


2004/03/17
Free 96k radio outages
You may or may not have noticed our free 96k radio stream has been down for the last 24 hours, our main relay server to the free 96k stream has vanished for some reason, while all other bitrates and formats have been unaffected the free 96k stream (our most popular) has been down.

We have implemented our stand by server for the free 96k stream to help hope with demand until we sort it out.
2004/03/16
Bonkers 12 final artwork
Pre release artwork for Bonkers 12 has been leaked on to the net and posted before officially suppose to... HappyHardcore.com has had this artwork for about a week now but we were waiting until the green light was given to post, seeing it's already posted on other sites already we don't see any harm in posting it. We have also the complete tracklist which we will post end of this week!

Note: This is the final bonkers 12 cover artwork, other postings of the artwork are not 100%

Bonkers 12 is a 4 disc CD release mixed by Hixxy, Sharkey, Scott Brown and Breeze & Styles to be released April 12th 2004. It can be pre-ordered here now.


Click to discuss this resource
2004/03/16
SSU UK OK?
As of April 15th 2004 SSU Recordings is relocating to the South of England. The entire SSU studio has shipped to the UK and we have been told that the SSU team have all kinds of projects lined up including new releases, merchandise and CD's. The SSU studio should also be available for hire once the move is complete and Simon Apex (owner and founder of SSU) will be available for DJ bookings.
2004/03/16
The Best of Clubscene
Clubscene Records kicked off in the summer of '92 born out of the monthly Clubscene free monthly publication which became the 'read' for all Scotland's clubbing generation.

This Best Of Clubscene CD is sure to bring back many a memory from raves gone by with a selection of tracks that is sure to bring out the white gloves, airhorns and face masks of many an 'old skool' raver. ClubScene's first official release was 'Obsession' by Ultra-sonic a band which went onto become a firm favorite within the worldwide rave scene with releases and tours in the UK, Germany, Australia & Japan an extra special bonus for Ultrasonic fans is a brand new mix of 'Check Your Head' by The Delegates. Featuring cuts from the likes of Ultimate Buzz, TTF and The Rhythmic State whose PA's were an essential part of the thriving rave scene.

Many of these tracks have been long sought after by those who heard them the first time round and now need to replace their well worn copies and for those who were too young the first time round but are now keen to find out what it was all about 'back in the day'.

The complete tracklist is here and The Best of Clubscene can be purchased online now.


2004/03/16
Hardwired CD album artwork
CD cover artwork for the new Scott Brown CD album Hardwired due for release around July 2004 has made it's way into magazine adverting, we have a color version for everyone to check out.

Many thanks to HappyHardcore.com member capone13 for the tip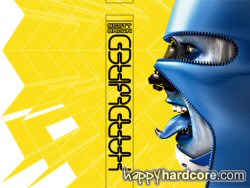 Can you be anymore Hardwired?
Click to discuss this resource
2004/03/16
Xero releases? Check this
Project Xero is a new hardcore label that promise to bring the fun back to hardcore, we have been told these tunes are available very soon, so keep your eyes pealed.

Audio (MP3):
Side A
Side AA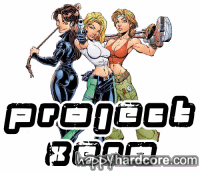 Xero's first release soon
Click to discuss this resource
2004/03/04
Bonkers 12 logo change release dates switch with HTID 2
News on the Bonkers 12 front is that the release date is 12th April 2004, the CD is indeed called "The Dirty Dozen" with the logo going back to the original Bonkers logo from 1-7! The cover artwork has also been given a touch up and contains all 5 DJ's cartoons in military style ala the film The Dirty Dozen with the CD having a overall military feel to it. The characters are much more "wacky" like the original bonkers series, React are going back to the oldskool Bonkers look.

Bonkers 12 can be pre-ordered here.

Hardcore Till I Die 2 is now set for release mid May 2004 and can be pre-ordered here.

2004/03/01
Picture disc goodness
Everyone loves a picture disc, they seem to defy all logic you think you knew about vinyl records. Not to disappoint Evolution Records with the upcoming release of Scott Brown's Hardwired CD are at least releasing one possibly more picture disc's released around the same time to promote the album.

The last album Hardcorevolution from Scott Brown and Evolution Records had two of the best picture discs both sound wise and visually released in hardcore today, we at HappyHardcore.com are quite sure Evolution Records wont disappoint this time around. Expect the disc's out around the same time as the album.







100& FAT FREE - Picture disc's coming soon
2004/03/01
What would you like to Flip n Fill today?
Flip n Fill UK chart hiters with their trance covers of hardcore tunes have done a new cover version of the Tiny Tot track Discoland. News is that the track will be on their next album and perhaps a single.