NEWS
2003/11/30
Ice Cold picture disc pre-order
Author: silver

Evolution bring an Ice Cold revolution with EV67 picture disc!. This 4 track release that was delayed from the distributor will be with Shop.HappyHardcore.com Tuesday 2nd December 2003! We have ordered the most number of units of this track out of all the hardcore stores in the world just so we can guarantee you a copy! Despite the title these babies are hot, pre-order this one while you still can.
Tracks on this killer include: Ice Cold / Ice Cold 2 / Pilgrim 2000 / Pilgrim (Energy Remix)

Audio (MP3) - PRE-ORDER NOW
Scott Brown - Ice Cold 2
Scott Brown - Pilgrim 2000

Sales of MWX004 - "DJ Impact - In your life / Far Away" have been much faster that we expected if you have not already picked up a copy of this tune, grab it ASAP! This tune is in stock now and can be ordered here.


Click to discuss this resource
2003/11/28
Hardcore charts in Holland
The early hardcore group Party Animals, who helped put Happy Hardcore on the map Europe-wide with their 1995 radiomix for Technohead's I Wanna Be A Hippy are back with a new single called Xanadu. This new track has actually charted in the national Holland Charts at number 50!







Hardcore coming back in a big way in Holland!
2003/11/27
Hardcore set to chart nationally in the UK!
AATW (All around the world) have expressed heavy interest in the hardcore scene yet again by signing Breeze and Styles and Force (ex Force & Styles). AATW is the label that is responsible for chart (pop) version of the hardcore classics Shooting star, Pretty Green Eyes, Field of Dreams, Heart of Gold and Eyeopener. This is a direct quote from AATW about hardcore.

The more stuff we hear - the more we get into the Hardcore Scene - the tracks are fantastic and deserve to be national hits in many cases - as is proved by Shooting Star, Pretty Green Eyes, Heart of Gold etc

The people involved in the scene are absolutely the nicest you could wish to meet and that's why we are delighted to be working with Mark and Darren on the single You're Shining.

This track is already enormous on the hardcore scene and we think it deserves to be a huge success further afield too - more news on this soon -
Click to discuss this resource
2003/11/19
MasterWax 4 on sale + tones of new hardcore
Author: silver

It's out! That right the tune on the label that you all have earmarked as a tune is here. Of course you can buy it direct from Shop.HappyHardcore.com!

DJ Impact with MasterWax 4, we have packed this released with two the biggest, baddest and sweetest vocal hardcore tunes you'll hear this side of Jupiter.

ORDER NOW
A - DJ Impact - In Your Life
B - DJ Impact - Far Away







DJ Impact - In your Life / Far Away (MWX004)



Not only have we shipped one of the most sort after releases we have updated the store with a ton of brand new stock. Everything from Camel Records 3 (CAM003), NuEnergy 35 (NUNRG035), Blizzard Trax 3 (BLZ003), Relentless Vinyl 2 + 3 (RLNT002 + RLNT003) and HectTech 29 + 30 H-TEC029 + H-TEC030.

Order them now from Shop.HappyHardcore.com while we still have stock. Don't email me in a few weeks saying I can't see it on the shop page anymore, MasterWax 4 and these new hardcore items will SELL OUT guaranteed so first in first served on these hotties!
2003/11/13
RAW is War!... err... hardcore!
The Raw Elements crew have let loose some new tunes for everyone to check out. ELEM007 is due for release in early December 2003 with ELEM008 set for release in January 2004.

Audio (Real Audio):
ELEM007
A - Lukozade - Progression
AA - Lukozade - Concorde

ELEM008
A - Cris.E.Manic - Composition B
AA - Cris.E.Manic - Leon AZ1465
2003/11/13
RaverBaby release schedule released
RaverBaby has released information to us on their latest offerings in the coming weeks.

BABY21 UFO - New Years Day / Hardcore
BABY22 Force + Styles - Follow Me remixes (Styles + Breeze / UFO)
BABY23 Euphony + DJ Storm feat Danielle - Breathe / Disappear
BABY24 Styles + Breeze - You're Shining HTID Mix / Future Shining
BABY25 Weaver - Falling In / Hixxy remix
BABY26 Breeze + Styles - Heart Beats / Electric
BABY27 Re-con & Fluxx - Free again / Re-con - Rok da crowd
BABY28 Gammer - Power with in / Kickin' hard / pressure
BABY29 Praga Khan - Injected with a poison - Hixxy remixes
BABY30 Hixxy + styles - Rushins / Taking over me
BABY31 King Size + eternity - This must be love (rbc remix) / Touch of Magic (Uplift & Stargazer remix)
BABY32 Adam Harris - Heavens above / Hixxy remix / UFO remix
BABY33 In Effect + Impact - Close your eyes / Hixxy remix

We have been told BABY21 - 28 are in production with 21 - 25 available within 2-3 weeks.
Click to discuss this resource
2003/11/12
Billy D Bunter back doing hardcore
Billy D Bunter is back doing hardcore tunes again. Billy D Bunter took a break from the hardcore scene a few years ago to make it big in the hard house arena. Billy D Bunter will be working on tracks with CLSM / Jon Doe for releases on CLSM or G-core. Look for new material in the new year!
2003/11/11
Di Scala from Ultrabeat makes hardcore
Information has been released about Di Scala from the group Ultrabeat that saw a number 2 in the UK national charts with Pretty Green Eyes is producing hardcore under the name Re-Con. Re-Con is featured on the new Bonkers XI CD as well further going to show the connection between hardcore and the UK charts.
2003/11/10
Get up! says Resistance Recordings
DJ Tronic dropped by HappyHardcore.com to give us the low down on Resistance Recordings latest project The GET UP EP! featuring DJ Tronic with vocalist Valerie Sparks. The track already having been featured on 2 compilations in the USA and why not the EP also features some talented American Hard House and Hardcore Producers on the remixes. Remixers from Mark V. & Poogie Bear, Bassdrum Project, Circle K, Bang FM, and a Hardstyle mix by Carlos Alfonzo. We have been told that the record is ready to hit the stores towards November.

Audio (Real Audio):
RES-003: GET UP:
A1 - DJ Tronic Mix
A2 - Mark V. & Poogie Bear Mix
A3 - Bassdrum Project Mix
B1 - Circle K Mix
B2 - Bang FM Mix
B3 - Carlos Alfonzo Mix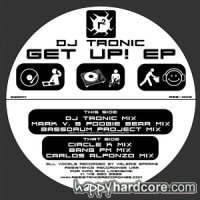 RES-003: GET UP EP!
Click to discuss this resource
2003/11/10
Event system update - meetup's now possible!
Author: silver

HappyHardcore.com has updated its event system so that its members can now click and save what events they are going to attend and what events they have attended! The system gives a head count on who's going and lists the member names of who are attending the event. Perfect for the event meetup!

You can add yourself to events inside the forum event section by clicking the attending text next to the event name or in the calendar event system. In the calendar section we have added a number next to the event if there are registered people planning to goto the event, if the event does not have a number next to it, press the event name to pop-open the window and click on the number inside the popup window, you will be the first person registered going to that event!

We have added the option to add past events to your profile as well so you can keep track of all the people that went to the events and information regarding the event. Event artists and DJ's, forums posts, member profiles and the event calendar - it's all linked together!

The events you are going too and the events you have gone too are reflected in your profile which is accessible for everyone to look at. Check out silver's or Oli G's profile's for example to see a few events they have attended or plan to attend. This system could not be easier, and in my opinion one of the best community features we have added to HappyHardcore.com in a long time! All hardcore and all for you! Check it out.
Click to discuss this resource
2003/11/07
Destructive Force, Camel and Underground Recordings exclusive
Author: silver

Shop.HappyHardcore.com has in exclusive stock of the new Destructive Force 2 and 3 (DFR002, DFR003), plus from the Camel Record boys - Oli G & Smackdown - "Crazy Ltd Cd Single" (CAM001CD) and DJ Mozz & Speedy B - "Drift Ltd Cd Single" CAM002CD), you can only pick these up here online.
We also have the limited clear vinyl on Underground Recordings that is also only available here- check out the image and audio!

Audio (MP3):
DFR002
A - Storm & Phosphor - Noize Makers
B - Storm & Phosphor - Suicidal

DFR003
A - Storm & Menis - Dynamite
B - Euphony - Time & Space

Underground Recordings (UDGR001):
A - Spinback & Storm - Break The Night
B - Spinback & Storm - Hallucinate






Hello, I'm a clear vinyl, my name is UDGR001
2003/11/07
Bonkers XI fever
The Bonkers XI competition has closed, we had a ton of entries but there can only be five winners this time around congratulations to all the winners. If you did not win don't fret the CD goes on sale this Monday the 10th of November 2003 or you can pre-order here now.
2003/11/06
DJ Stompy new audio
Hardcore producer Stompy has had his head down and pumped out a few new tunes for everyone to have a listen and comment about. We are told that the first track probably will not be ever released and it's just a but of fun in the studio, while the second is a different kettle of fish all together, completely original and all written and produced by Stompy and very different to his usual style

Audio (Real Audio):
Stompy - Loving you
Stompy - Here Come the Sound

2003/11/05
Bonkers 11 TV commercial exclusive
HappyHardcore.com has the Bonkers XI TV commercial before release launch next week - Exclusive to HappyHardcore.com for your viewing pleasure. Click the any of images below to display the broadband version.

Don't forget our Bonkers 11 competition closes today if you have not already entered or you can guarantee your copy by pre ordering here.

Video (Window Media 9 [260k]):

2003/11/03
HappyHardcore.com and React give you the chance to win Bonkers 11!
HappyHardcore.com and React give the chance for 5 lucky people to win a brand new copy of Bonkers XI (11) FOREVOLUTION to be released November 10th 2003!
Competition closes 6th of November 2003 so get your scoots on and click the image below to enter.

Guarantee your copy by pre ordering here.